Kaisilver custom made bracelets
A custom bracelet can include all your preferences so you should end up getting the gold or 925 silver bracelet of your dreams, but it is really not all that simple. In this report Kaisilver experts explain the essentials that you should consider when ordering made to order bracelet. Even before working on the design and other features make sure that, you have picked the right jeweler. Custom jewelry is all about understanding, interpretation and precision, every detail is important since it has been specifically selected by the buyer.
Kaisilver Bracelet Highlights:
Our bracelets are custom made in gold or 925 sterling silver.
Kaisilver gold bracelets can be ordered in 14k or 18k gold.
Yellow, white and rose gold are the color options for a custom gold bracelet.
White rhodium, yellow gold and pink gold are the plating options for silver bracelets.
Please keep in mind that, no plating on silver lasts forever, it will come off in time.
Both gold and silver bracelets have the same quality standards.
We place no limitation on your choice of gemstones for the bracelet.
Multi-gemstone bracelets can mix and match gems per your preference.
The design for your custom made bracelet can be yours or ours.
The length of the bracelet, gem sizes and shapes can be defined by you.
Metal: You can order a Kai Silver custom made bracelet in gold or 925 sterling silver. Irrespective of the metal that you choose for your bracelet, you are always assured of good workmanship and gems handpicked by experts. All gold bracelets can be ordered in 14k or 18k gold, we can provide a price quote for 10k gold bracelets if that is what you need. Custom made gold bracelets can be ordered in all three gold colors namely, white, yellow and pink. We would recommend that custom silver bracelets be left un-plated because, the plating on silver will never be permanent and will peel off with time. But if you still wish to have your Kaisilver 925 silver bracelet plated, you can request for white rhodium, yellow gold or rose gold plating.
Weight: Most jewelers point out that Kaisilver bracelets are designed and crafted, with around 40% to 50% higher metal weight than what other jewelers provide. As the price of precious metals including gold moved up, jewelers started producing jewelry with lower metal weight. It is our opinion that optimum metal weight is absolutely essential to craft a long lasting jewel. We are keen to craft jewelry that stays in shape for a very long time, this is the only way in which you can gradually build up your jewelry collection. So when you make a comparison between a Kaisilver gold or 925 silver bracelet with one that, has been crafted by another jeweler don't forget to compare all the vital features including metal weight and workmanship. Two bracelets can appear very similar externally but, behave very differently in terms of durability and ability to withstand frequent wear.
Gemstones: Few jewelers can match the expertise of Kaisilver when it comes to gem procurement and custom cutting. A custom bracelet can become a lot more beautiful and probably even more meaningful, if set with gorgeous gemstones. Whether it happens a gold or silver gemstone bracelet that you plan to order, make your gem selection without being restricted to what you see or read on our website. You can also choose the gem shape and size that you require, gems can be combined without any limitation in multi-gemstone bracelets.
Design: Most buyers prefer to pick a design concept from the Kaisilver collection and then, request for design modification to suit their liking. Our custom bracelets are crafted from start to finish for every single order, we do not try to reuse old molds and existing design prototypes. This makes it possible for us to accommodate all requests related to the modification of design elements. It is really not necessary that you begin with a design concept from our collection, your gold or silver made to order bracelet can be crafted based on your own design sketches and images too.
Workmanship: The trend to wear fine quality silver jewelry might have begun recently but at Kaisilver, we have always accorded the same level of attention and craftsmanship for both gold and 925 sterling silver jewelry. Few jewelry buyers are aware that the talents of skilled artisans are important not only to deliver a beautiful jewel but also, to create a jewel that is sturdy and reliable. Problems like loose gems, untidy metal finish and pointed corners are often the result of substandard workmanship. Some of the most talented and experienced gem and jewelry artisans in Thailand, work on our jewelry orders. This is one of the main reasons why, more than 7,000 jewelry lovers across the globe proudly wear a fine jewelry designed and crafted by Kaisilver.
Kaisilver: The leading online provider of high end custom made jewelry. We assure equality quality standards related to workmanship and gems for both gold and sterling silver jewelry. We can custom custom make any type of jewel and not just bracelets, according to your design concept or ours. Review our Custom Made Bracelet Collection, to get some awesome ideas for your own bracelet. We place no restriction on your choice of gems, and you can combine gems of your choice in a single gold or silver multi-gemstone bracelet. Contact our support experts at sales@kaisilver.com with any questions or requirements that you might have.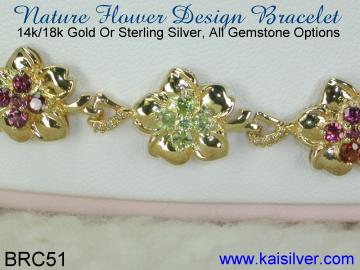 A flower design for this custom 925 sterling silver or gold bracelet from Kai Silver. This bracelet provides a nice balance between metal and gemstones, the skillfully crafted metal flowers are embellished with various gemstones. You can choose the gems for your 14k or 18k gold or sterling silver bracelet, various gems can also be mixed into a single bracelet ... more.
A custom bracelet with a stylish look, crafted in gold or 925 silver the bracelet has 6mm trillion shaped gems. Your custom made bracelet can mix and match gemstones of your choice. This bracelet will give a nice sophisticated edge to your rest, it will speak a lot about about your refined taste for gemstones and jewelry. Read the complete report for this bracelet ... more.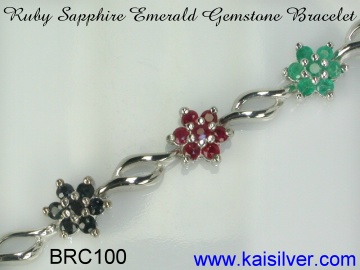 A multi-gemstone bracelet crafted in gold or 925 silver, you choose the gemstone for your custom bracelet. You can pick all gem combinations, a price quote will be worked out based on your metal and gem selection. The design of this custom bracelet can also be altered to suit your liking, read more about this ruby, sapphire emerald made to order bracelet ... more.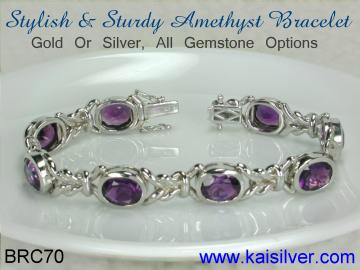 A much more bolder look for this custom bracelet, your choice of 9x7mm oval gemstones and you can combine different gems in the same bracelet. A sturdy statement making bracelet made to order in gold or 925 silver. Consider using this design concept to make a bracelet with all family birthstones. Both gold and sterling silver bracelets have good craftsmanship ... more.