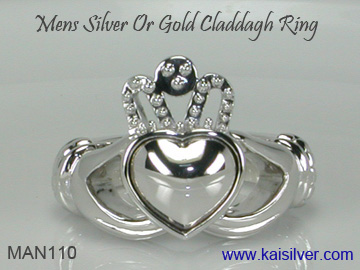 Claddagh rings have become very famous mainly because of their meaning and significance. While some high end jewelers like Kaisilver have crafted fine claddagh rings with high quality gems and craftsmanship, the meaning of the jewel still remains the same. Many men might be surprised to learn that there is a heart ring that is suitable for them and this, is the claddagh ring for men. First made around 4 centuries ago by an Irish slave, the jewel is today respected across the world and rated as one of the most meaningful jewels of all time. Traditionally men have been known to buy the most number of heart rings but, almost none of these land up on the fingers of men! It is therefore interesting to hear why a men's claddagh ring will look just fine when worn by men and will not, bring up visions of something dainty and feminine. The MAN110 Men's Claddagh Ring, shows a gold or 925 silver claddagh ring for men, this ring is all metal and does not have any gem set in it. It is however possible to request for the same ring with your choice of gem, set in the center. The center gemstone if selected, would be a heart shaped gemstone. The meaning of this jewel are held in the main features of the ring which are the heart (showing love), the crown (denoting loyalty) and the hands (friendship and togetherness). Let us briefly discuss how this historic ring came to have these features.
As we mentioned above, the first claddagh ring was made around 4 centuries ago by an Irish slave. The young man named Robert Joyce was a fisherman by profession and lived in a small Irish village. His boat was one day raided by pirates, Robert was captured and sold as a slave to a wealthy goldsmith, he was to learn the trade from his master and serve him. Robert Joyce could not bear the mental agony of being separated from his beloved, the thought made him depressed and he gradually found himself weakening mentally. He decided at that time to make something for her, this would keep alive his dream of being a free man one day. He intended to let the features of the ring hold his true feelings for her and this, is how the hands, crown and heart came to be present in the ring. The men's claddagh ring and in fact every cladagh ring, should have these three essential features.
It is now obvious that a claddagh ring whether, meant for a lady or man would have the same essential features. However fine jewelry providers have, developed fine claddagh rings for men that appear impressive and not feminine. Kaisilver's claddagh rings for men have large dimensions and the heart in the center is around, 8 to 9mm. Substantial metal weight (gold or 925 silver) is invested in the jewel - this ensures that the ring is sturdy and long lasting. Basically anyone who sees this gold or silver claddagh men's ring, would mistake it for a lady's jewel. And just keep in mind that, the choice of metal or gemstone for your men's heart ring will not have any bearing on the level of, meaning and significance the the jewel has.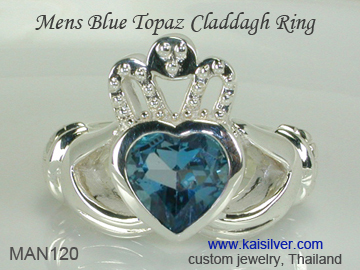 You could order a gold or 925 silver claddagh men's ring with a gemstone, and the gem can be selected by you. Given the large size of the gem (8-9mm), it is very likely that few gems would go beyond many budgets. For example, medium to good quality blue sapphire, ruby, emerald and even tanzanite can get quite expensive in those sizes. The most popular gems for mens claddagh rings are as follows, deep red garnet, black onyx, deep brown agate, citrine, dark blue topaz, darker shades of amethyst, stabilized turquoise, dark green jade, blue lapis, smoky quartz and champagne quartz. These gems are priced moderately and it is not very difficult to find them in larger sizes. The next tier of gems which are a bit stiff on price points are peridot, aquamarine, green tourmaline, morganite, iolite, white opal, fire opal etc. And after this come the big three, emerald, ruby and sapphire. Before you choose a specific gem for your men's cladagh ring, discuss the issue with your jeweler. It is not uncommon for jewelry buyers to be unaware of some basic information related to gems. Many people still thing that, the only natural green gem is emerald and that, all naturally found red gemstones are ruby and all blue gems are sapphires. An interesting thing is that, a 9mm blue sapphire gem can cost as much as 3,000 U.S$ to 5,000 U.S$ even for a medium grade stone. On the other hand, you could get a yellow sapphire gem with good clarity, color and cut in a 9mm heart size, for around half of what a medium grade blue sapphire would cost you. These are issues which are best discussed with your jeweler, so choose a jeweler who is willing to inform and guide you. The MAN120 Gemstone Mens Claddagh Ring, is shown here with a dark blue or London Blue Topaz gemstone.
Kaisilver: As the world's leading online high end custom made jewelry provider, Kaisilver crafts all jewelry in gold or 925 silver with design and gems of your choice. The Mens Claddagh Ring Collection, will give you an idea of the high quality of merchandise that we provide. Some of the best skilled craftsmen and artisans work on very jewel that we craft. When it comes to gems, few can match our wide sourcing network that extends to every mining location in the world. We also have preferential access to over 200 million carats of gemstones and can therefore, provide just about any gem that you need. You can also contact the support experts at sales@kaisilver.com for any gems or jewelry related assistance that you might need.