Advantages Of Thai Men's Rings
Thailand is an excellent source for quality gems and jewelry. There are many reasons why you should choose Thai men's rings custom made online. It might surprise you to know the positive economics of purchasing, even a single handcrafted men's ring from the country. Saluting the highly skilled jewelry artisans in the country, some of the globes most reputed jewelry houses have for decades, had their jewelry designed and crafted in Thailand. Talk about gem cutting and polishing, and every stylist would agree that, no one does it better than the dedicated gem cutters of this country.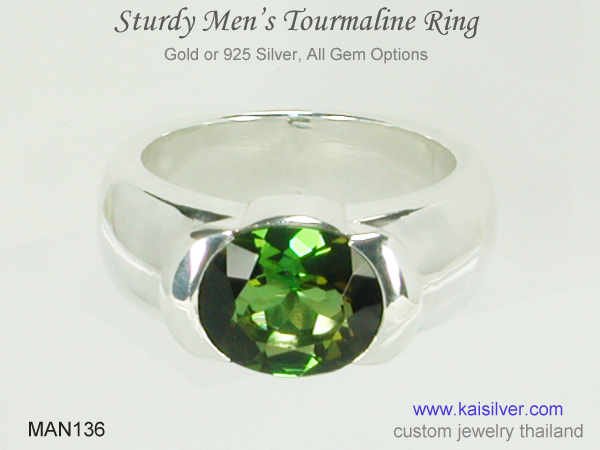 A heavy ring custom made in gold or silver, you choose the gemstone - crafted in all ring sizes. This men's gemstone ring has a large gem set horizontally. Read all details and options ... more.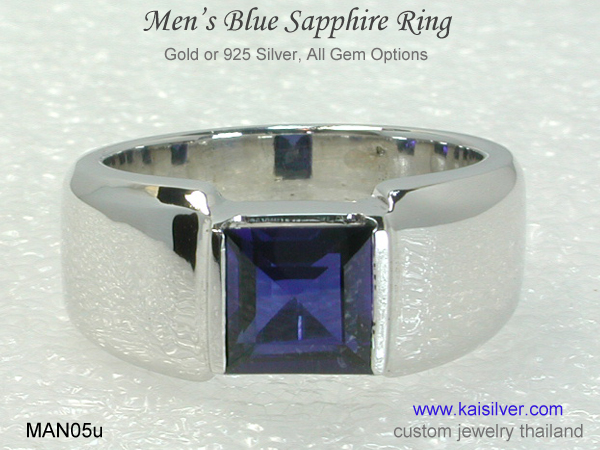 Men's band ring crafted in Thailand by Kaisilver. a classic design suited for both formal and informal wear. Available with all gemstone options 10k 14k 18k gold and 925 sterling silver ... more.
The Jeweler: Choosing the right custom jewelry provider in Thailand is very important. While the nation is not famous for online scams and frauds, the quality of the work is the issue. A Thai men's ring that is fully custom made, should put no restriction on your choice of design, gemstone and dimensions. A seasoned custom jewelry provider in the country, would have access to every gem that is naturally mined on this planet. There might be a feeling that, high end jewelry should always be made in gold or even platinum but, this is a myth. Rest assured that there is no reason why a men's custom ring cannot be designed and crafted, with the same high standards that would be applied to gold or platinum. This obviously applies to gemstones too, the choice of gemstones for a men's ring crafted in Thailand, should be the same for gold and silver rings.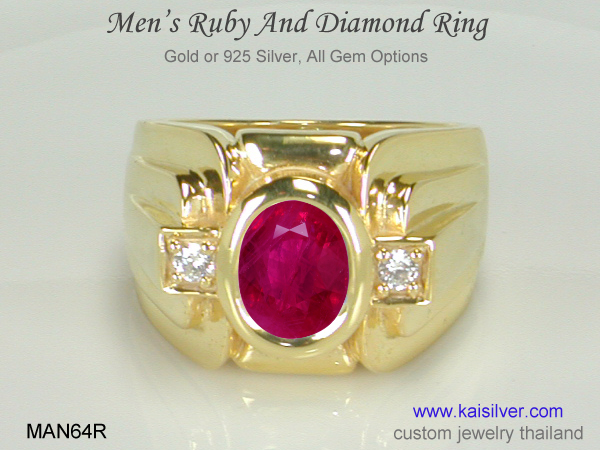 An impressive ruby ring with diamonds, sturdy gold or sterling silver handcrafted in Thailand - all ring sizes. Choose the gem of your choice, optimized metal weight to ensure durability ... more.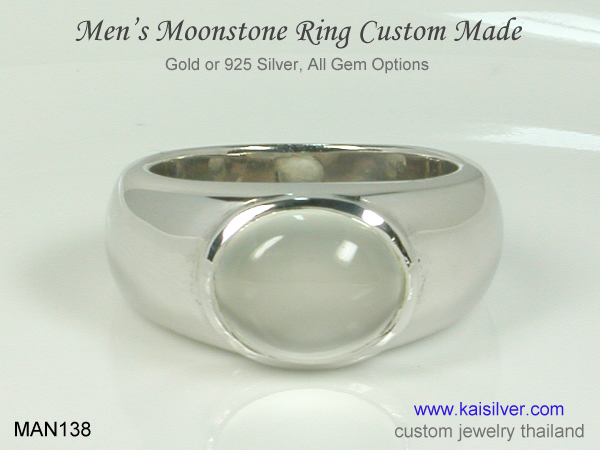 The unique sheen that is seen on a perfectly cut moonstone, gives the gem a gorgeous look. Moonstone rings for men are set with immaculately cut moonstone gems - all design options ... more.
Workmanship: When talking about a men's ring that is made for a specific client, it involves a single piece production process. It is not something that can be handled through a mass production line. The price of a specifically made ring with a specific choice of gemstone, cannot be compared to mass produced jewelry. Another thing to remember is that, the workmanship, design features and even the durability of a high end custom made ring - would far surpass the features of a mass produced piece that is focused on gaining a mass market. This is why knowledgeable jewelry lovers always, prefer to wear unique single piece crafted jewels. All these are things that would obviously happen once, the right custom jewelry provider from Thailand would be selected to do handle the job.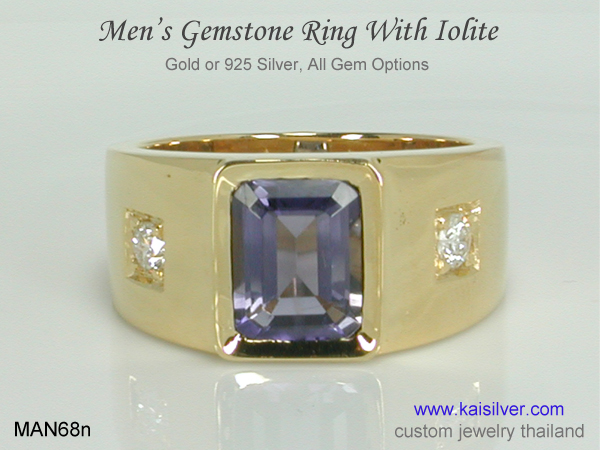 Crafted in Thailand by the highly talented Kaisilver team, the MAN68n is shown with an iolite gemstone. Limited availability of iolite gems, has kept the gem out of the mainstream jewelry market ... more.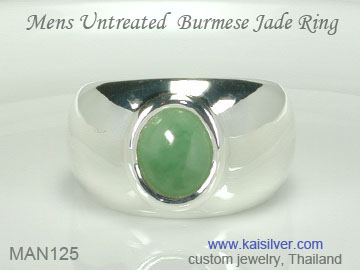 Jadeite is the finer grade of jade and is mined in Burma. Straight from the Burmese mines and custom cut by Thai gem cutters. Kaisilver presents the handsome MAN125 men's jade ring ... more.
Durability: We made a brief mention of durability in the above content but, this is one factor that needs to be given sufficient importance. Most jewelry providers choose to keep silent on this point but, this is something that cannot be ignored by the buyer. Paying a premium price for a custom men's ring and then, learning that it would fall apart or get dented and bent easily is extremely unfair and disappointing. Natural gemstones differ in terms of toughness and hardness, having said that the right time of setting and an optimized metal mount can go a long way in keeping the gemstone in your ring safe and secure. For example, a men's ring where the gem protrudes significantly, from the surface of the ring could result in a damaged gem - this due to frontal physical impact. A gem mounting that uses prongs, can result in the loosening of gemstones. Besides exposing the wearer to skin scratches from sharp prongs, the prongs can open up when they get caught in fabric or pockets. This results in the gem becoming lose and you even risk losing it as it falls off the ring. The ideal gem mount should have the entire rim of the gemstone covered in metal - technically referred to as a bezel mount.
Metal weight is an important factor that will influence the durability of a men's ring. Simply sourcing a men's ring from Thailand, will not ensure that your ring has an optimized metal weight - there are issues that need to be understood by the buyer and the jewelry provider. It is interesting to know that, 2 men's rings can look very similar from outside but, one of them can have a weight that is 40% or even 50% more, than the other. This brings us to the topic of metal thickness. If you took a piece of gold or silver or rolled it very thin, the piece could dent or bend easily. Now if, you added metal weight, the sheet would become more resistant to getting deformed. Many buyers are unaware of this important fact, it is one of the reasons why a quality custom ring can carry a premium price. In an ideal situation, the metal weight of a men's ring should, be optimized based on the design, dimensions and ring size of the jewel. This is a level of customization that only customized jewelry can provide.
An amazing ring with a deep red garnet gemstone - the January birthstone ring. Order any Kaisilver men's ring with your birthstone. Check out ring details and review the birthstone charts ... more.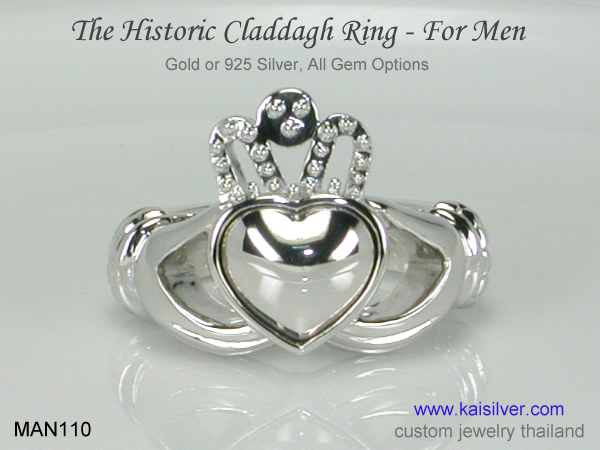 First made four centuries ago, the Kaisilver claddagh ring can be ordered with or without a gemstone. Acclaimed as history's most meaningful jewels. Read the claddagh ring story ... more.
When picking an online custom jewelry provider in Thailand, browse through the website and take a look at the volume and quality of information provided. Avoid websites that give you 3 line product information, focus mainly on external looks and then flash a 'Buy Now' or 'Express Checkout' icon. High end jewelry was never meant to be sold that way. In an ideal situation, you should see detailed information on every aspect, and have access to a human expert who can guide and advise you. Paypal is a good source to process payments in Thailand, the platform works seriously to keep buyers safe and has a strong presence in Thailand. While payment modes like Western Union Money Transfers and Bank Transfers are other options, they should ideally be used for repeat orders.
Shipping: Thailand has access to all international couriers, Fedex and DHL are the most popular options. While Thai post and EMS services do ship jewelry - the online tracking services with these options are not very efficient. Shipping through Fedex or DHL provides a transparent process, something that will give peace of mind to the buyer and the jeweler.
It is important to understand that, crafting a single piece jewel using skilled artisans and to high quality standards - does take time. Expect a 3 to 5 week delivery period for most custom jewelry orders. Quality control is ideally done at each phase of production, flaws if any need to be rectified before the piece moves to the next process.
Who Is Kaisilver: The leading online provider for high end custom jewelry, Kaisilver Thailand has over 12,000 clients spread across 15 nations. Gold and silver jewelry is handcrafted by a team of highly skilled, artisans and gem cutters in Thailand. Stringent quality control procedures are maintained, at each phase of production. Jewelry can be crafted based on your designs or ours. Networked to every gem mining and cutting center spread across the globe, we place no restriction on your choice of gemstones. Our team of experts at sales@kaisilver.com is always ready to provide any information or clarification, even if you plan to purchase nothing form us. We welcome you to take advantage of our expertise .