In this report we talk about finely crafted single piece band rings from Thailand. While there are hundreds of jewelry factories, mass producing band rings and other jewelers - these cater to the mass market and might not please lovers of high end custom jewelry. So when you do find an interesting band ring in Thailand or find a jeweler, capable of fulfilling your requirements - how could that jewel reach you at the other end of the globe economically. This is what brings us to the topic of online Thai jewelry providers with a global clientele. A provider who has the expertise and dedication to deliver a band ring in gold or 925 silver with all your preferences included. Kaisilver has been the leading online provider for custom jewelry for about 2 decades. Over 12,000 satisfied clients across 15 nations rely on us for all their gem and jewelry requirements. Discuss your requirements or questions with our experts at sales@kaisilver.com .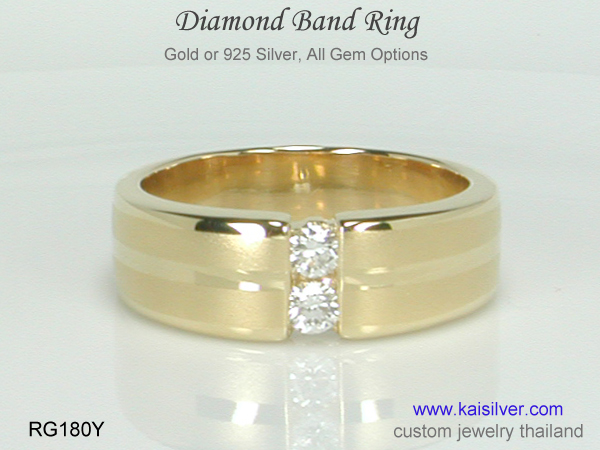 A double finish diamond band fully custom made. You could choose 3 diamonds for a wider band width. The yellow gold diamond band ring can be ordered in white, yellow or pink gold and silver is also an option. This Kaisilver ring is shown with a dull and high polish finish - you could request for a full high polish or full dull finish ... more.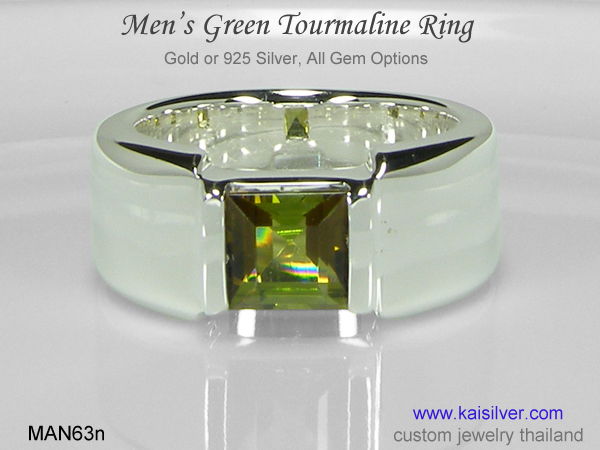 A classy look for this custom gemstone band, the gemstone of your choice. The design is perfect for a pair of his and her bands. The width for this gold or silver band can be customized based on the gem size. We can also craft your gold or 925 silver band with a design provided by you. No limitation on gemstone or ring size ... more.
Band Width: So how wide should a band ring be, this is an often asked question. There are a few factors that would influence your decision, as far as Kaisilver is concerned - we can custom make your band in gold or 925 silver with the width of your choice. If there is something like a 'sweet point' when it comes to width for a band ring, it would be in the 6mm to 8mm range. If you had a ring size requirement of 8 or below, it might be a good idea to go in for a 5mm or 6mm band width for your ring. Men seem to have a taste for wider band and these are generally, in the 7mm to 8mm range. Since a band ring implies a uniform band width all around, the gemstone or diamond size in the ring would also define the width of the band. The ring size along with the band width, would define the optimized metal weight for the ring. And this metal weight would form a price component. This is how the budget for your ring could decide the band width that you choose. In general we would say that most men's band rings, have a width in the 7mm to 8mm range.
One way to increase the significance of a wedding band would be to include your birthstone in the ring. This silver or gold band ring has a cushion shaped gemstone. A sturdy band ring suited for men with an optimized metal weight. You can request for design modifications or send us your own design idea or image to be custom made ... more.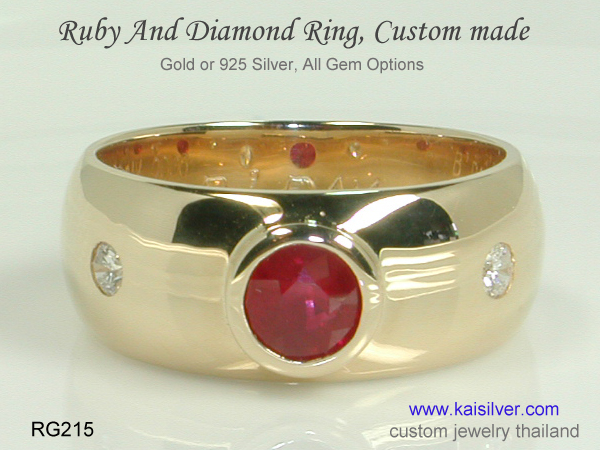 A gold ruby band, this Kaisilver custom band is crafted by expert jewelry artisans in Thailand. The same superior standards are maintained for the gold and sterling silver gemstone bands. Like always, no limitation on gemstone or ring size. The ring is sturdy and comfortable to wear. The gem mount provides protection to the gem ... more.
Gemstone Band: The idea of adding a gemstone to a band ring has picked momentum, there was a time when diamonds were the most preferred choice for band rings. The gem selection for a 925 silver or gold band, could be based on personal preference. Gemstone color, the history and tradition attached to the gem and even the durability of the gem can often influence selection. Let us not forget that gemstone cost is a component on the price tag and gems like diamonds, rubies, sapphires, tanzanite and emerald can be significant . It is no secret that gemstone bands with modestly sized gems (5mm to 7mm) would be more reasonably priced. With preferential access to over 200 million carats of gemstones, we place absolutely no restriction on your choice of gemstone. An exciting option for a gemstone band is to choose a birthstone. So the ring would include the birthstone of the wearer. And if your gold or sterling silver band is being ordered for a wedding or engagement ring, consider exchanging birthstones. The practice of exchanging birthstones in matrimonial rings, has picked pace in recent years - it offers an excellent way to increase the meaning and significance of wedding and engagement rings.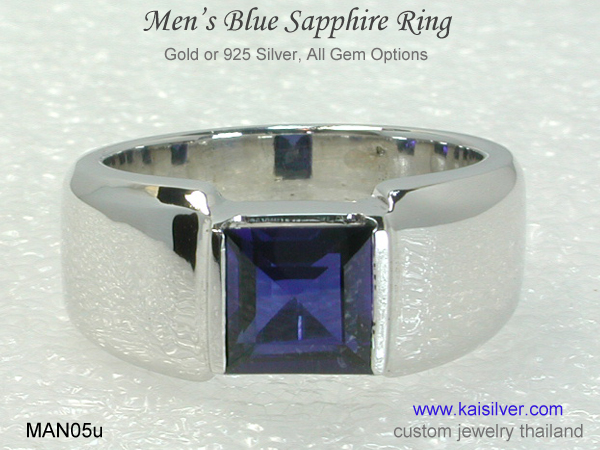 The rarest of gemstones blue sapphire set in a white gold band ring. Historically worn as a symbol or power and status, sapphire today symbolizes truth and eternity. Crafted as a gold or sterling silver band, the MAN05u is suited for formal and informal wear. Options for all gems including yellow, blue and pink sapphire ... more.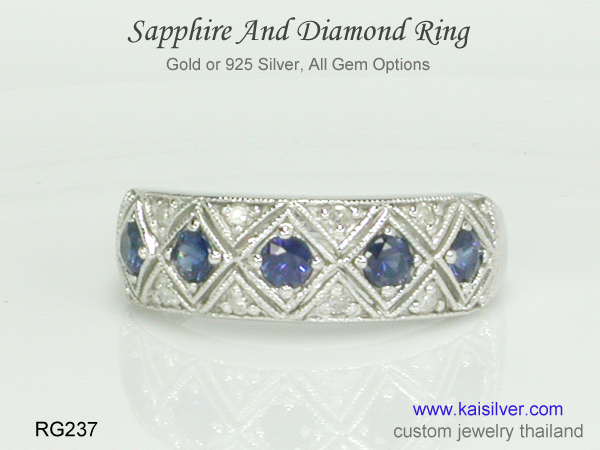 This antique style ring can be ordered with a uniform band width or a tapering band. Combine different sapphire colors or different gems in this gold or silver gemstone and diamond band. If you pick the uniform band width option, it would be a good idea if the front half of the ring has gems and diamonds and the back is plain metal ... more.
Diamond Band: Few of us would not like to wear a diamond band with glittering diamonds, a classy symbol of wealth, prosperity and status. We talked about gem prices moving up as the size of the gem increases, this is fact is even more glaring when it comes to diamonds. The symbolism of diamonds is what makes them so popular in wedding and special occasion rings. The stone symbolizes purity, sincerity and continuity - like diamonds are forever. If you wish to budget for a modestly priced diamond band ring, with natural certified diamonds, fine workmanship and no compromise on durability - you need to work on the diamond size options. Keep in mind that when it comes to diamond sizes 3mm and above are not considered to be small. A diamond band ring can be designed to include a bunch of diamonds, set close to each other. This offers bigger glitter and gives an extravagant look that goes far beyond what the price tag would suggest.Diamonds are available in a range of grades and prices differ widely. For a modest budget, go for medium grade natural diamonds that look bright and glittering to the naked eye. We of course have absolutely no problem using fine quality diamonds if your budget can handle that.
A handsome ruby and diamond ring in gold or sterling silver. Perfect for a men's wedding band, priced reasonably for a daily wear jewel. While you can pick your gem preference, the ring is shown with a natural certified ruby gemstone. The diamond columns on either side of the gemstone adds an extravagant look ... more.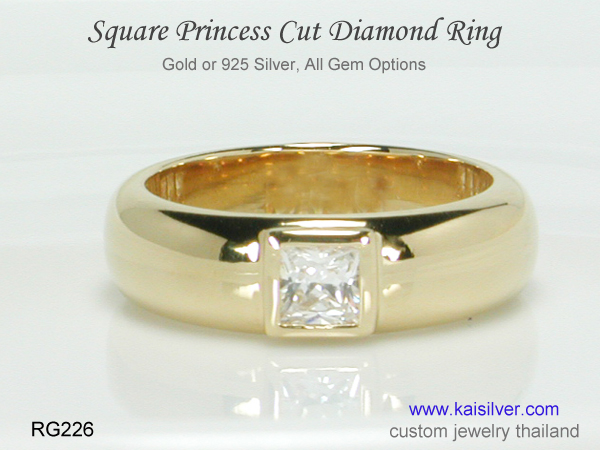 A scintillating diamond band with a natural certified princess cut diamond. A sturdy ring with a smooth finish for durable and comfortable wear. The square gemstone can be picked by you. The band width of the ring crafted in gold or 925 silver, can be customized based on the gemstone size. Available in all sizes and all gem options ... more.
Pair Of Bands: There are ring designs that are suited for men and others that are more specifically suited for women. When it comes to band rings, it is not tough to find designs that can be worn by both men and women.and engagements are about making bonds - wedding band pairs offer a great way to mark the occasion. When we talk about wedding bands for 'him and her', it is not necessary for the two bands to have the same band width or gemstones. The implication is that, both rings have the same concept. We just saw how birthstones can be exchanged in a pair of wedding band rings. The metal and metal color for each of the bands could differ. For example, a number of men appreciate the composed look of sterling silver, this is what makes men's silver wedding bands very popular. She on her part, could pick a yellow, white or pink gold band ring.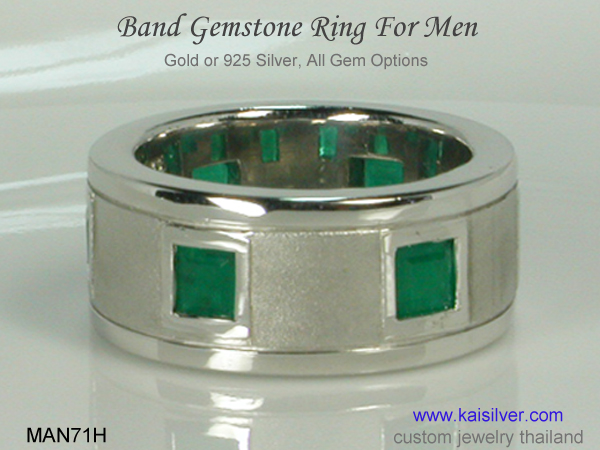 A hefty band ring with gems all around the ring. Combine gems or pick one gem in all positions. This design concept, provides a high level of protection to the gemstones. It is possible to order the MAN71H in sterling silver or gold, with round gems instead of the square gemstones shown in the image. Custom made in all ring sizes ... more.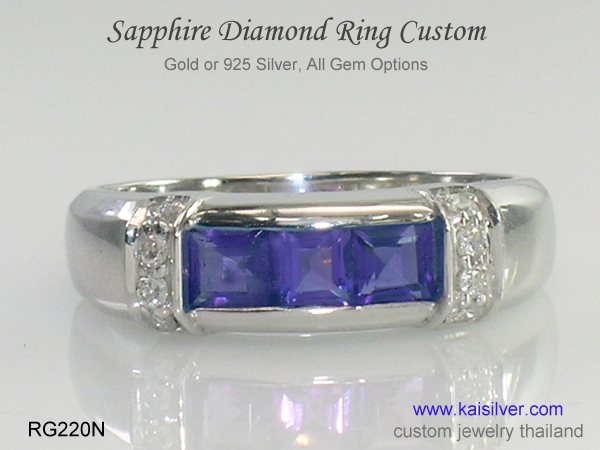 A modest band width for this multi gemstone band ring. Choose 3,4 or 5 gems for your ring - gem sizes could be 5mm or 6mm. The band width can be increased by choosing larger gem sizes. The moderate band width provides comfort wear even for men, leading super active lifestyles. All gem combinations available ... more.
Metal Choice: Most jewelers compromise on quality features when it comes to silver rings, this is unfortunate but has remained so for decades. The good thing about choosing Kaisilver for your band ring is that, you get the same superior quality for both metal options. Gold band rings can be ordered in 10k, 14k or 18k white, yellow or pink gold. When it comes to fine jewelry, we recommend 14k gold in any of the three colors. This is because 14k gold provides the ideal balance between metal hardness and gold content. Kaisilver jewels have a metal weight that is around 40% to 50% more than what other jewelers provide for similar jewels. While this adds to the durability of the jewel it does also reflects on the price tag. This is something that you should keep in mind when making a price comparison between our jewels and that, provided by other jewelers. While it was men who preferred to wear silver band rings for years, we now see an increasing interest shown by women too. For a sterling silver ring, we would recommend no plating - this plating because any plating done on silver, by any process - will wear off in time.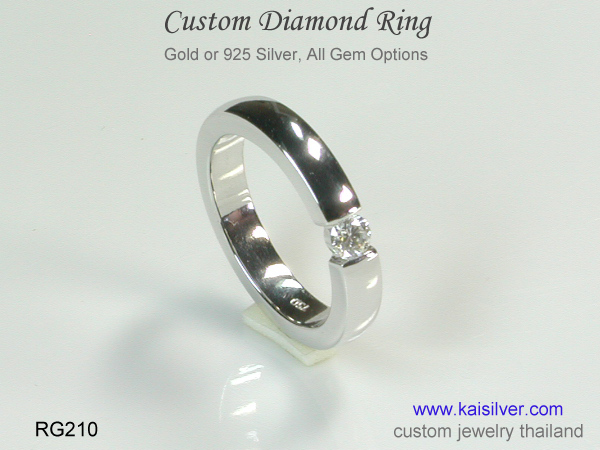 A diamond or gem band ring, band width customizable based on gem size. A thick band ensures that the ring will last for generations. When picking a diamond remember that, a band width that is close to the diamond size gives more of a diamond look - an extravagant appeal. White, yellow or pink gold and 925 silver options ... more.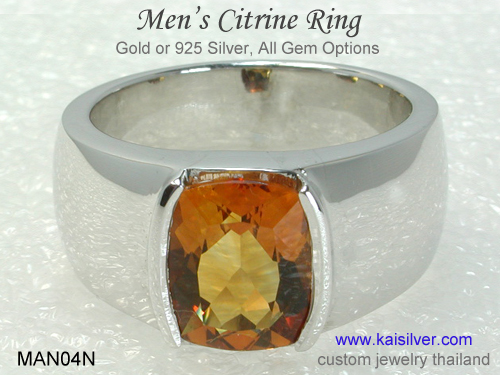 Built like a fort, this men's band has a unique barrel shaped gemstone in the center. You have all gem options to choose from and every gem is immaculately custom cut. A gem size in the 10x8mm or 11x9mm range gives the ring a band width of around 10mm to 12mm. Choose a smaller gem if you would like to have a smaller band width ... more.
Plain Band Rings: We spoke about bands with gems and diamonds, now a little about plain bands. Before you jump to conclusions let us tell you that, plain band rings need not be dull or boring. Etchings, designs and engravings can be provided on band rings with no gemstones. It is also possible to render different types of textures on these rings. You could for example have a plain silver or gold band, with a dull brushed look or even a minor hammered finish. If you are more into organics and nature, request for a leaf design texture or a bark texture for your plain ring. Heavy silver bands can also have a stony pebble style design on their surface. You can always discuss with the Kaisilver team and let them come up with suggestions for your ring.
How To Buy: As you browse through the bands shown on this web page you will notice that, there is a link that takes you to a complete report with each ring. That is where you will get information related to options, pricing, metal weight etc. The buying process is also mentioned in that report. Get in touch with the Kaisilver team at sales@kaisilver.com if you have any questions. We can also craft a unique band ring for you in gold or silver, with your choice of gemstone(s). Include your image or sketch in the email if, you plan to go for that option.
Who Is Kaisilver: It has been two decades since we established ourselves as the preferred online choice, for high end custom made jewelry. A team of highly skilled artisans in Thailand, work on all Kaisilver jewelry orders. The same degree of skill, dedication and passion is provided for gold and silver jewels. Over 12,000 satisfied clients across 15 nations, wear fine jewelry crafted by Kaisilver. We will be honored to add you to that list. By staying networked to gem mining and cutting operations across the globe, we have preferential access to more than 200 million carats of gemstones. This allows us to place absolutely no limitation on your choice of gemstone.