Burma jade, Seeking affordability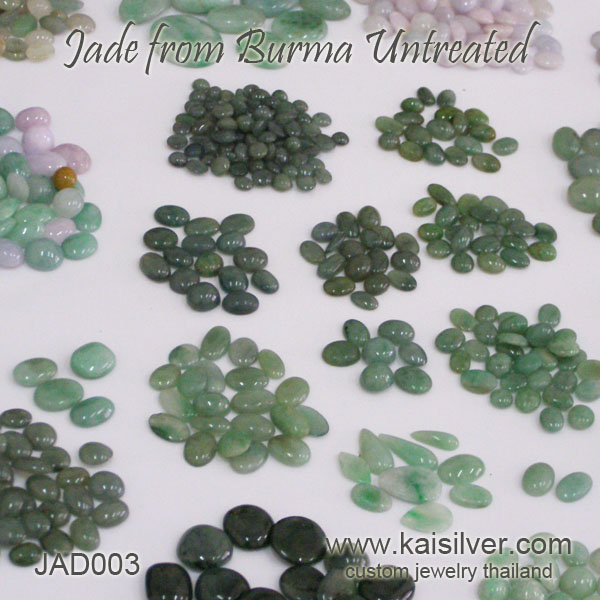 The price of jade from Burma is at an all time high, it is the Chinese demand for the finest Burmese jade that fuels this consistent price rise. China began its passion with jade more than 3,000 years ago, much of the jade at that time was nephrite jade that was mined within the country. Around 300 years ago, China was introduced to fine quality green jade from Myanmar (Burma). The gemstone from Burma was jadeite jade, good color and translucence meant that, a high price point could be set. The fine jade in Burma is referred to as Imperial Jade, this gem can cost as much as good quality ruby and sapphire would, per carat. If jade is indeed so very expensive, what are the options available for jade lovers with modest budgets, to spend on the gemstone. In this report we will talk about untreated jade gems and also mention dyed jade gemstones. A gem enthusiast with some knowledge about gems would surely be thrilled to own an untreated natural gem even though, it might not be the finest specimen available in that gem species. This is especially true of believers in the special powers (metaphysical properties) of crystals and gems. Wearing a 'pure' gem refers to a gem that is not treated to enhance its appearance, the gem need not be the finest quality.
Affordable Untreated Burmese Jade: A very tiny portion of the demand for fine green jade can be met with the little Imperial Jade that is found each year. For most of us this, high quality jade is merely of academic interest since prices are way too high - often reaching 2,000 U.S$ or more per carat. So let us talk about affordable price options for green jade from Burma. Since most of the commercial jade sent to gem markets is dyed to improve its perceived value, getting untreated gems can be challenging. Kaisilver works directly with Kachin gem providers in the Northern part of Bangkok, now called Myanmar. Gems are closely inspected to ensure that they fulfill two essential criteria the first being that, they can be cut into well shaped and polished gems. The second criteria is that, these untreated Burmese jade pieces should be priced moderately. Of the 2,000 to 3,000 pieces that we inspect on each trip, we consider ourselves to be lucky if we manage to pick 100-200 pieces. The stones are brought back to Thailand and cut and polished in Bangkok. The image shows one collection of untreated green jade from Burma, the results of 3 days of searching near the Burmese mining areas. We can custom make some amazing jade rings, pendants or even bracelets, with these modestly priced untreated green jadeite from the most preferred source for jade - Myanmar (Burma).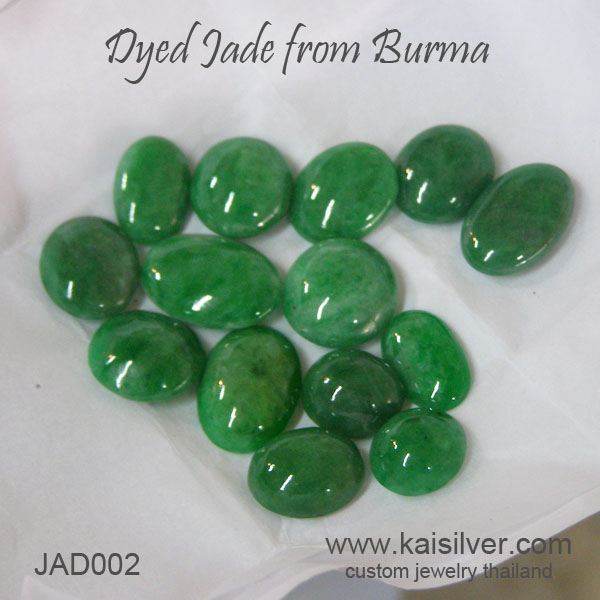 Affordable Dyed (Treated) Burmese Jade: Contrary to what the strict gemologist might advice you, there is absolutely nothing wrong in buying or selling green jade that has been dyed to enhance color. The important thing is that the buyer and the seller need to know exactly what is being sold and purchased and that, the price should reflect the material being traded. At Kaisilver we strongly believe that it remains the duty of the seller to disclose, whether the green jade being sold is treated or untreated. Dyeing green jade can follow a single step or double step process. In the first method the dyeing process begins on the stone without any bleaching being done, the results give the jade a more naturally occurring look. It is not uncommon for the jade to be bleached before dyeing it, this offers a prettier and more uniformly spread color enhancement. At Kaisilver you can order custom jadeite rings, earrings, pendants and bracelets and specify treated (dyed) or untreated gems. Dyed jadeite can give a luxury look to a jade jewel but, buyers who have knowledge about gems appreciate wearing gems that are not treated - the choice is always yours. Take a look at the dyed jadeite gems from Burma in the JAD002 image, a retail price for these gems would be in the below 50 U.S$ per carat range. However if you wish to have natural untreated jade with similar color, expect to pay around 500 U.S$ to 1,000 U.S$ per carat and prices move up as the gem size increases.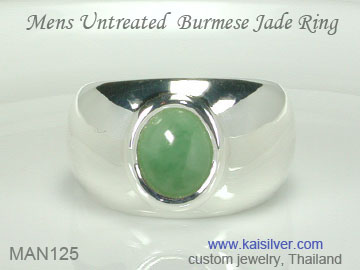 Affordable Men's Burmese Jadeite Rings: Men have become more aware of the jewelry that they wear, interest in gems has resulted in some serious learning. Few men who have heard of the amazing beauty and history of jadeite jade from Burma, would not like to wear a ring or pendant set with the gemstone. Leveraging our expertise in jade sourcing, we offer modestly priced gold and silver rings for men with natural jade from Burma. You can order a custom jade men's ring based on our designs or, send us images of your own concepts. The MAN125 Kaisilver jade ring for men is shown here with an untreated natural jadeite gem from Burma. You could order the same gold or 925 silver jade ring with a dyed jade gem too. The good thing about buying a Burmese jade ring from us is that, you get the same superior workmanship and handpicked gems for the gold or 925 silver jade ring. Since each ring is made from start to finish without relying on standard molds, your jade men's ring can include all your preferences and can be made in all ring sizes. Review the Kaisilver Men's Jade Ring Collection and get some, design concept ideas for your custom jadeite ring. Just remember that we can craft your ring with a design sketch or image sent by you too.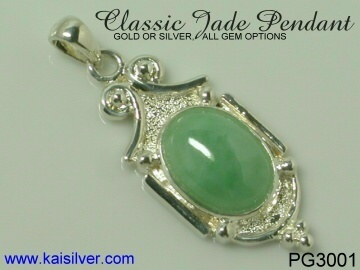 Affordable Burma Jadeite Jade Pendant: A timeless and well crafted jade pendant, a great way to wear this charming green gem. A pendant is easier to wear and maintain as compared to a ring, you also need not worry about size and fit when choosing a jade pendant for yourself or someone special. You could order this Burmese jadeite jade pendant in gold or 925 sterling silver and for the gold option, you can choose from 14k or 18k gold and pick any of the three gold colors. The PG3001 Jade Pendant is shown with an untreated green jade but, you could request for your gold or 925 silver pendant to be crafted with a dyed green jade gem instead. Don't forget that since each pendant is fully custom made, design modifications can always be accommodated to suit your liking. The color of jade is such that, it works in harmony with all three gold colors so pick your choice depending on what you like. Some of you might believe in the age old tradition that, the effectiveness of a gemstone is enhanced if it touches the skin when worn. Request for this option if you prefer to have it, we can set two jade gems back to back and ensure that the gem mounted behind touches the skin. With this method, the stones are rounded and will therefore not poke or scratch delicate skin. We can craft your jadeite gold or sterling silver pendant with your own design ideas, send us images or sketches of the same and we will work out a price quote for the piece. Read the Affordable Jade Jewelry Report, to learn more about this classic silver jade pendant.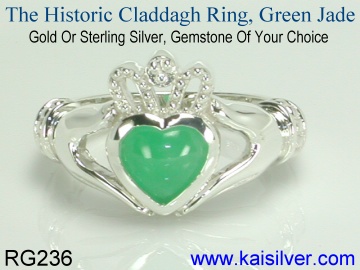 The Historic Claddagh Ring With Jade: Surely one of history's most meaningful jewels, the touching story of love, sacrifice and loyalty of a humble Irish couple has earned tremendous admiration and respect for the 4 century old legend. Kaisilver with its thorough research into the history and tradition of the claddagh ring is regarded, as the finest source for the amazing jewel. The ring is shown here as a jade claddagh ring but, you can pick the gemstone of your choice. Our gold and 925 silver claddagh rings come with good workmanship and custom cut gemstones. Each ring retains all the essential features of the first cladagh ring and this means that,the full meaning of the jewel is showcased. The ring symbolizes love (heart), friendship (hands) and loyalty (crown) and is suitable for all occasions. You could buy a claddagh jade gemstone ring for yourself or, gift it to someone who really deserves your attention. The love implied by the cladagh ring does not necessarily mean a matrimonial relationship, love between husband and wife, daughter and mother, two sisters and even close friends can all be marked with this historic ring. Options and pricing details for this Burmese jadeite jade claddagh ring are available in the Jade Jewelry Report, do take a look and get some more ideas for your jade ring.
Kaisilver: Accepted as the leading online source for high end custom made jewelry, we craft all jewelry in gold or 925 sterling silver. With access to some of the biggest gem resources on the globe, we place no restriction on your choice of gemstones. The designs for your jewelry can be selected from our websites, all design modification requests can be accommodated. We can also custom make jewelry with your own design images or sketches. Our experts at sales@kaisilver.com will be glad to answer any questions that you might have, you will never be pushed into making any purchase so do take advantage of our expertise.