Chic24x7 Thai Silver Jewelry, The Next Level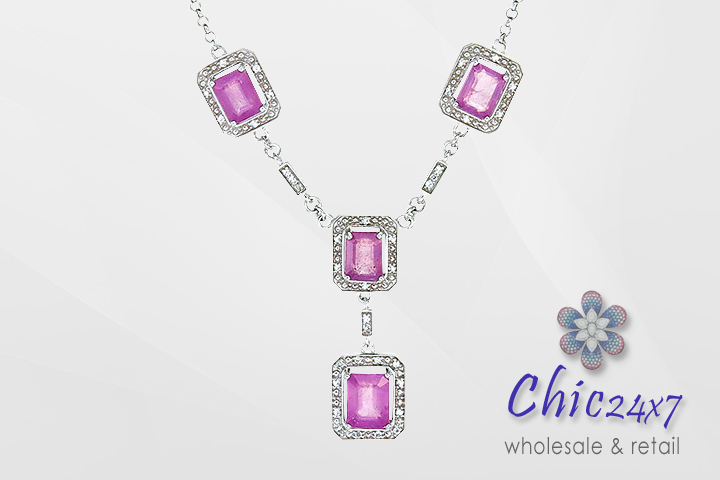 By showcasing two decades of gem and jewelry expertise in its online store, Chic24x7 has raised the yardstick for silver jewelry in Thailand. Jewelry is designed and crafted with gemstones that, are rarely seen in sterling silver jewelry. We have seen 925 silver jewelry being increasingly made with synthetic gemstones, this to get a flashy look while still appealing to the lower budget range.
Style experts point out that, jewelry buyers have a much better idea about gemstones and jewelry today. It is easier to learn about gemstones and convenient to search and compare. This attitude has widened interest in a range of gemstones. Gems, are being appreciated for their beauty, unique characteristics and even for centuries old customs and folklore attached to them. All this within the scope of natural gemstones.
Chic24x7 Jewelry Highlights:
Available for both retail and wholesale buyers.
You could even pick a single piece from the online store.
Gemstone information including treatment is clearly disclosed.
Gems in silver jewelry include, ruby, sapphire, emerald and a lot more.
Wholesale 925 silver jewelry can be made with designs provided by the client.
The team stays updated with global market trends for gems and jewelry.
Many silver jewelry providers in Thailand have failed to read the market trend as it stands today. A new group of buyers which is significantly big, demands quality - this irrespective of the metal being gold or silver or the gemstone selected. Chic24x7 has always invested resources in tracking global market trends. The jewelry collection showcased in the online store, reflects what buyers are looking for. The products are superior in many respects, the focus is not on producing 'cheap' jewelry.
Almost everyone knows about sapphires, rubies and emeralds, three stalwarts of the gemstone world. Sapphires are often thought to be found in just one color, blue. In reality, this precious gem comes in a range of colors - white, pink, green, blue, orange and yellow are some of them. These are also three of the most expensive gems, historically they have been patronized by royals and aristocrats. Another fact that is common to ruby, sapphire and emerald is that, they are not seen very often in sterling silver jewelry. The price point of these gems put them beyond the budgets that are targeted for 925 silver jewelry.
Chic24x7 seems to be breaking all rules and flaunting conventions, when it comes to selecting gems for its sterling silver jewelry collection. Browse through the Online Jewelry Store and you will see a generous share of rubies, sapphires and emeralds set in 925 silver rings, pendants, earrings, bracelets and even necklaces. What is even more surprising is that, prices are very affordable. And how do they manage to offer natural rubies, sapphires and emeralds in silver jewelry at affordable prices, read on for the answer.
To begin with the Chic24x7 gem procurement team is surely one of the best in the industry. With comprehensive knowledge about rough gemstone selection, gemstone cutting and polishing - the team is able to work the best price point for every purchase. This expertise is evident in the sterling silver emerald jewelry included in the online catalog.
And when we talk about the silver jewels studded with rubies and sapphires in the collection, credit goes to both science and the efficiency of the gem buying team. Rubies and sapphires have for decades been heated to improve their appearance. This is a practice that is known and accepted by all stakeholders in the industry. Unfortunately a major portion of precious gems that are mined, are not usable. Gem treatment knowledge was for a long time, limited and the only process that was known was, the conventional heat treatment.
After decades of experimenting, gem cutters and miners, succeeded in finding a new form of gemstone treatment. Natural rubies and sapphires that would not improve by the heat treatment process, were diverted to a newly discovered process. Referred to as the fissure filling process, this treatment significantly improved the color and clarity of rubies and sapphires. The price of fissure filled gems was a lot lower than, what heat treated gems with similar appearance would cost.
Chic24x7 gem buyers negotiate directly with gem houses that, perform the fissure filling process - no brokers and no middlemen. Since fissure filled rubies, pink sapphires and blue sapphires are purchased regularly, the gem houses never forget to get in touch with these buyers when a fresh batch is processed. What this means is that, the best pieces are handpicked by Chic24x7 buyers and the rest are released into the markets.
The important thing to know about fissure filled ruby and sapphire is that - the gems need some amount of care when being worn or cleaned. But when you compare a price tag of 100 USD for a 3 carat gorgeous looking fissure filled blue sapphire, with a price tag of around 2,500 to 5,000 USD for a heated stone with similar size, color and clarity - you get a better perspective of things.
The great thing about silver jewelry from Chic24x7 in Thailand is that, you could buy one single piece or order a large volume to stock up your jewelry business. Wholesale jewelry orders can be manufactured with designs and gem specifications provided by you. Prices can be negotiated and quality control standards can be customized to your specific requirements. Jewelry sellers should stop chasing the lowest price possible. A better strategy would be to define quality levels and explain your quality to prospective buyers. While each one of us has a budget constraint, quality conscious buyers are always easy to convince - if you can match their quality expectations.