Spessartite Gems And Jewelry
If you had been following the trail of spessartite garnets, it would have become obvious that less was being seen of this gorgeous reddish-orange gemstone. Kaisilver the world's leading online high end custom made jewelry provider decided to track the movement of rough spessartite into one of the prominent gem cutting centers for this gem, Thailand. Interestingly the same gem manufacturers who had introduced spessartite to the market here, were still standing firmly behind their gorgeous beauty. And the news is that, we should be seeing more of spessartite garnet jewelry in the coming months and years. Apparently the brief loss of interest in this gem was due to the scarcity of more saturated colors. We have all become accustomed to the presence of inclusions in spessartite, it is nothing new. However when the gemstone has a pale orange color with low saturation, the internal inclusions seem to become more glaring. New mines discovered in Tanzania and Madagascar, have now begun to supply nice spessartite garnet, though only a small portion of this has the highly desired red-orange color the supply position is better than before.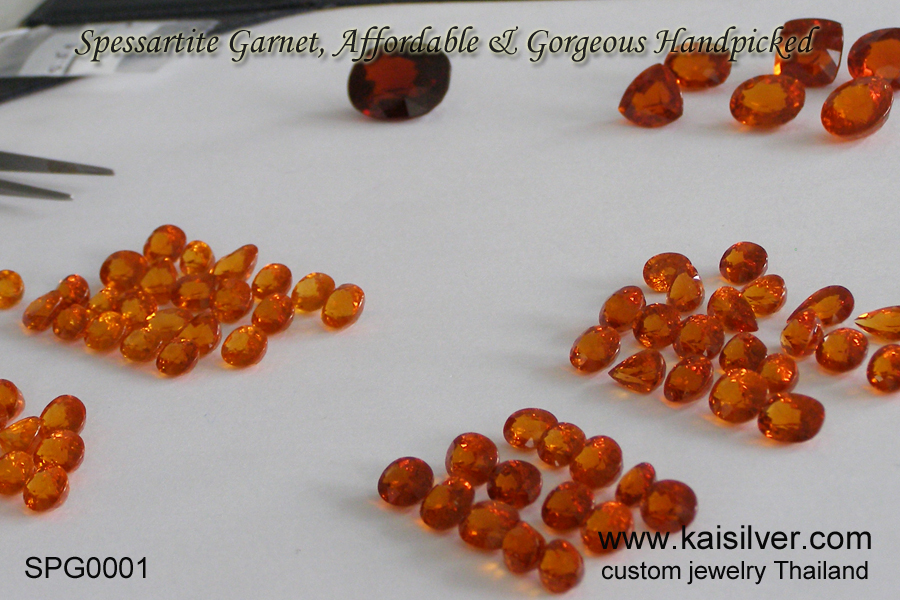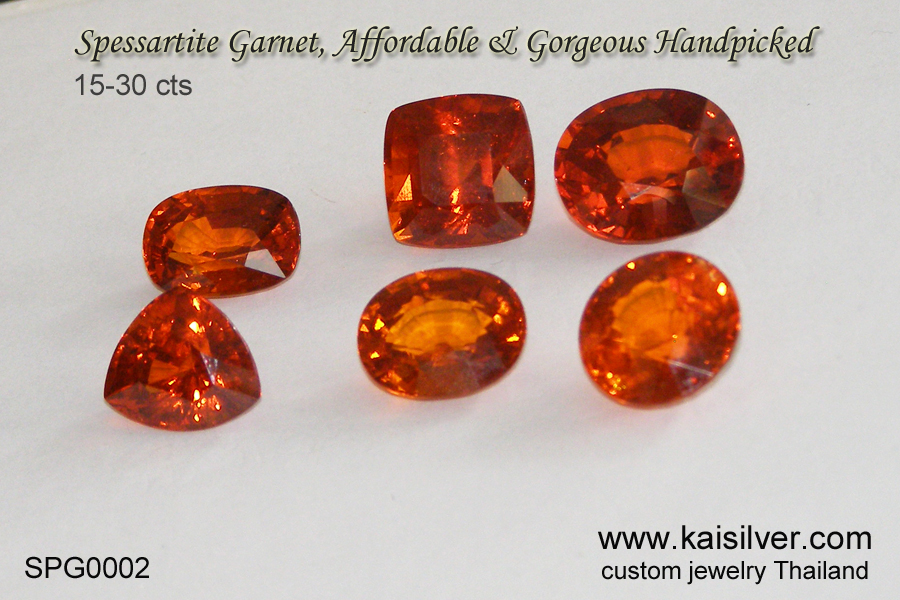 Leveraging the long term relationships that we have developed with all major gem manufacturers across the globe, we now have a fine collection of spessartite gemstones to offer our esteemed clients. As is always the case, we prefer to custom make the jewel rather than deal in loose gems. Since each of the gems being provided to us will be custom cut to our specifications, any shape, size and cut is no problem. Another interesting piece of information relates to cabochon cut spessartite garnets in a color range that begins at light orange and ends with, a saturated reddish-orange tone. Smooth gems with their subtle light reflection from the surface, have a please personality. When you mount a large cabochon spessartite gem in your ring or pendant, you get that happy feel of substantial gem presence.
If you are looking to get a spessartite ring, earring or pendant or even an entire jewelry set made with this enticing orange gem - this is the time. Other jewelers might not be so interested as they do not have the kind of reach as we do in the global gemstone markets. In our opinion, spessartite offers good value for your money as compared to other gems with a similar color. If you consider fire opal, the color might be a good match but the gem surely lacks the toughness required for frequent wear. Orange sapphires which have been treated by the conventional heat process can cost 3 to 4 times more than spessartite garnets. Choosing the cheaper beryllium treated orange sapphires might be an option for some but, many serious jewelry lovers do not seem to be impressed with sapphires treated with the beryllium process. And just to emphasis the issue of gem treatments, it will come as a welcome surprise to learn that, our spessartite garnets are not treated in any way to enhance their appearance. Gem experts assign special importance to natural gems that are left untreated, this is exactly how we leave our spessartite garnet gems too. You can learn more about this gorgeous gem in the Spessartite Garnet Report from Kaisilver.
Kaisilver: Fine custom made jewelry online, more than 7,000 satisfied buyers across the globe. Equal emphasis for craftsmanship and gem quality given to gold and 925 silver custom made jewelry. Can choose our designs or send us your own, the gemstone choice is yours and you are not restricted to what you see on our website. Get in touch with our team of experts at sales@kaisilver.com for any questions or requirements that you might have.