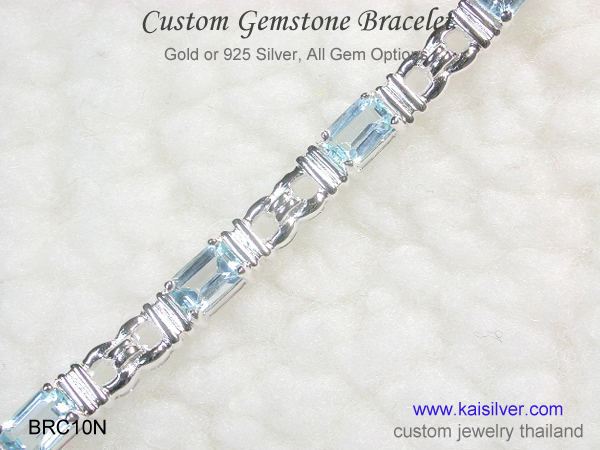 If there is one jewel that you should go for a custom made option, it is a bracelet. Here are a some awesome reasons to explain our opinion. In an ideal situation bracelets which are fairly large, need an optimum metal weight to make them long lasting and durable. Unsure economies and markets driven by low price demands, encourage jewelers to try and push down the prices of jewels. Unfortunately this cannot happen without compromising quality, bracelets are a good example of this trend. If you wish to get a gold or silver bracelet for casual wear and not too worried about, having it for a long time, pick a ready made bracelet by all means. But if your idea of wearing a jewel is to develop a jewelry collection that will keep growing and serve you well for years and decades, opt for a made to order bracelet. Begin with selecting a reliable custom jewelry provider, then work together to get a bracelet that you will be proud to own and wear. True lovers of jewelry develop a sentimental connection to each of their jewels, it hurts them to see a damaged or broken jewel. To begin with custom bracelets need to be crafted as per order, no fixed set of molds and master blocks to use. This does mean that you will need to wait around 4 to 6 weeks to get the piece. If you know of a requirement, make sure that you keep sufficient time to let the jeweler do a good job. Custom jewelers committed to quality like Kaisilver, will not accept a custom jewelry order if the time available is insufficient to get a perfect job done. Since all production phases including wax masters, initial master metal replicas etc need to be made from start to finish, these cost components will add to the cost of the bracelet too. Kaisilver custom jewels are around 40% to 60% heavier (in metal weight) as compared to what, other jewelers would provide. Factor these issues into your evaluation of various bracelets.
Facts, Ready Made Bracelets:
You can buy such bracelets off the shelf, no waiting time is involved in handling production.
A ready made bracelet cannot fulfill all your design, metal and gemstone preferences.
Jewelry manufacturers need to please mass markets when they make ready made jewels.
The focus is on flashing attractive price tags, quality of workmanship, gems will suffer.
Lowering gold and silver weight is a sure way to keep the price of ready made bracelets down.
Lower quality workmanship and insufficient metal weight, result in shorter life and breakages.
Suitable when you just want to wear a jewel without, worrying about it including all preferences.
Facts, Kaisilver Custom Bracelets:
The design for your Kaisilver bracelet can be yours or ours, modifications are allowed.
We place no restrictions on the gemstones that you choose for your bracelet.
You can specify the cut and shape of the gems in your bracelet.
Good weight and expert workmanship is provided for 925 silver and gold bracelets.
Choose from 14k and 18k white, yellow or pink gold for your custom gold bracelet.
Custom made sterling silver bracelets can be made with or without a plating.
All gems are handpicked and custom cut, all gem combinations are possible.
We place no restrictions on design or gems for all custom made jewelry orders.
Gem authentication certificates are possible for each gem, at an additional charge.
A reasonable production time of 4 to 6 weeks, this is well within industry norms.
Prices are reasonable and profit margins modest, you get good value for money paid.
We give equal importance to good external appearance and long term durability.
What Next: If you are looking for a gold or sterling silver bracelet, we suggest that you drop our experts an email at sales@kaisilver.com Provide as much detail as possible and leave a telephone number if, you wish to have a support staff call you on the phone. Let us have details of your location and the suitable time (your local time) for you to receive our call. Our team will prepare themselves for the telephone discussion, based on the information that you email us, so do take the time to be as detailed as possible. Don't forget that we can craft your bracelet based on your design, we welcome images and sketches for discussion. Check out the BRC10N Custom Bracelet Report, and learn about the options and pricing for the gorgeous piece. The Kaisilver Bracelet Collection, is another good resource to help you choose the bracelet of your choice.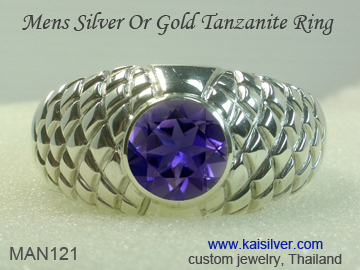 Tanzanite with its spectacular violet-blue color and extreme rarity, is one of the most exotic gemstones of our time. The gemstone is considered to be 1,000 times rarer than diamonds. Kaisilver crafts custom tanzanite rings for men in gold or 925 sterling silver, get more information about our rings ... more.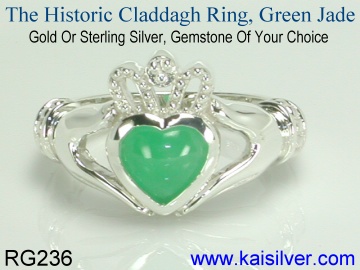 Burmese jadeite jade is one of the most expensive gemstones, so what if you wish to have a jade ring or pendant with natural and untreated jade from Burma but, are working on a modest budget. Kaisilver gem experts work with miners in Burma, choosing untreated gems that are modestly priced ... more.