If you happen to be looking for a good sapphire ring, Thailand is the right place to direct your efforts. And doing this from an online reputed custom jewelry provider like Kaisilver, should ensure that the entire process is simple and smooth. However before you begin the whole process, it is important to know what to look for and expect, this will allow you to make a well informed evaluation of various options. And if you need more information or wish to clarify any doubts feel free to contact the Kai Silver support team at sales@kaisilver.com.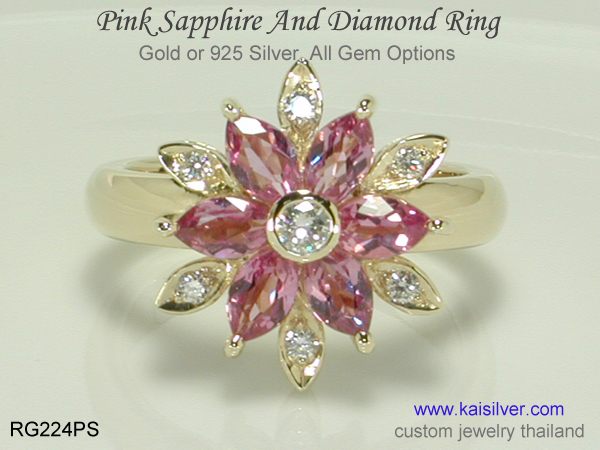 A sapphire ring design inspired by nature, crafted by expert artisans in Thailand. The sapphire gold ring can be ordered in yellow, white or pink gold. You can also specify 18k, 10k, or 14 for your gemstone ring. Also available in the same superior quality standards as a silver sapphire gemstone ring. A choice of yellow, pink, green or blue sapphires - or any gemstone of your choice. You can also combine different sapphire colors or different gems in the same ring. All ring size requests are accommodated ... more.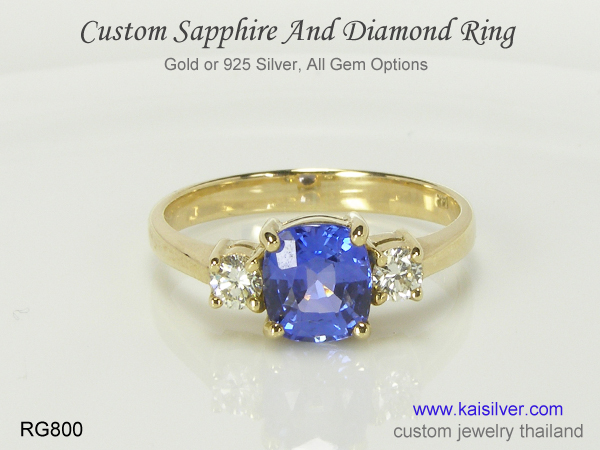 An elegant sapphire gemstone ring, the handpicked natural and certified blue sapphire, is set between two glittering diamonds. Sturdy rounded prongs used to securely mount the sapphire and diamonds - ensuring that, they do not snag in your clothing or scratch delicate skin. This is a custom ring, you can choose a round, oval, or cushion shaped gem. The same ring is available in gold or silver and your choice of gems. We can also craft a gemstone ring with your design concept/image ... more.
Sapphire gems are priced in the higher bracket. The rarity, toughness and consistent demand for the gem has allowed to maintain a steep price point for decades. While low grade sapphires that are heavily included and fissured and show a very dark color, can be sourced at bargain prices - we at Kaisilver limit our selection to handpicked, natural and certified sapphire gemstones in the medium to good grade category. The issue of sapphire prices becomes even more relevant when it comes to men's sapphire rings. Men love to wear large imposing rings crafted in sterling silver or gold. Aspiring for a huge chunky sapphire gem, could drive the price tag beyond many budgets. Sourcing sapphires directly from the mine operators, we will have absolutely no problem in sourcing a very big sapphire for your ring as long as, you can handle the budget. Having said that, most men's gemstone rings with sapphire shown on our websites, encrust sapphires in the 2 to 3.5 carat range. This sapphire gem size, allows for a sturdy, durable, well crafted sapphire men's ring to be crafted at a reasonable price. Just remember that you can also send us your own sapphire ring design to be custom made.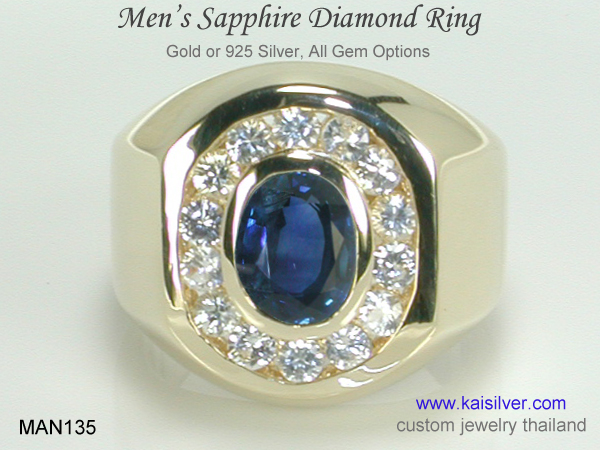 From the talented designers at Kaisilver, a sapphire ring with a royal look. An oval yellow, white, blue, green or pink sapphire in the center blessed with a halo of glittering diamonds. Big dimensions and a brute metal (gold or silver) weight of 25 grams, larger men's sapphire rings could call for an additional metal weight. Tough and durable to keep up with your hectic lifestyle. With minimum care the MAN135 can serve you well for many years and still remain, fit to pass on to the next generation ... more.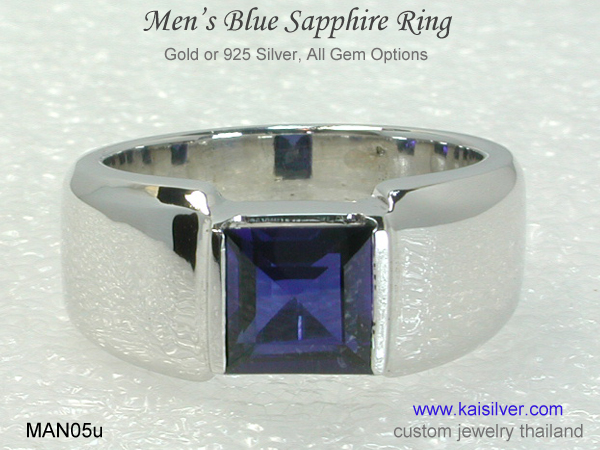 A classy men's white gold sapphire band, a look that is perfect for special occasion or formal wear. Crafted by Thailand's expert artisans in silver gold. If you are looking for a men's sapphire wedding band, or a band ring with just about any gemstone - the MAN05 is perfect. With a 7mm square gem, the ring boasts of a handsome band width (9-10mm). The ring design is great for a pair of his-and-her wedding rings, the band width for the ring can be customized based on the gemstone size ... more.
A few details about sapphire gems, will make you better appreciate and evaluate your favorite gemstone ring. Sapphire is symbolic of faith, truth and loyalty. Wearing a sapphire gemstone ring, shows your refined sense of style. Given the history and beauty of the gem, a ring with a precious gem like sapphire gives the wearer a sense of accomplishment and boosts confidence. September babies have a special connection to sapphire, the gemstone is the birthstone for the month of September. While you do not need a special occasion to treat yourself to a sapphire gemstone ring, the gem is perfect for marking 3 anniversaries - the 5th, 45th and 70th. When presenting a sapphire gemstone ring to someone you love, try to get an idea of design concepts that they like. This can be gauged by the reviewing the jewelry that the person generally wears. A basic idea of styles and concepts is all that you need, the exact design can be selected based on those inputs.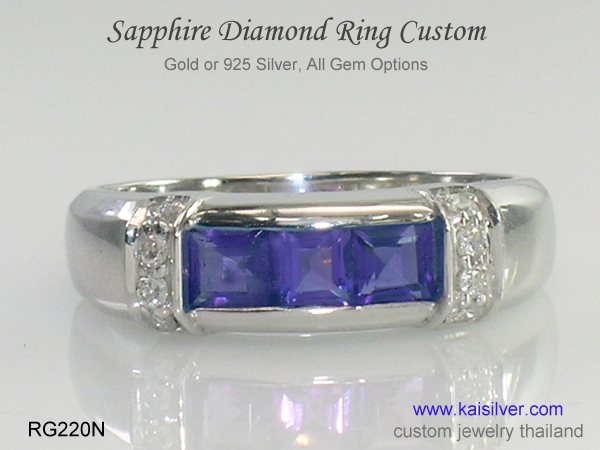 An excellent choice for a moderately priced sapphire band ring - just remember that good sapphire rings can never be cheap. The gold or 925 silver sapphire gemstone ring, can be ordered with all sapphire colors. You could choose a yellow, white, pink or green sapphires and can get a more colorful ring by mixing different sapphire colors. Like always you have an unlimited choice of gems and need not limit your selection to sapphire gemstones. The band width of the ring depends on the size of the gemstones ... more.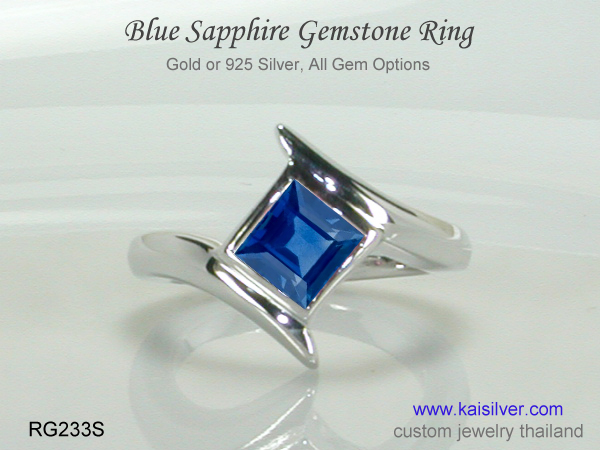 A ring that is designed and configured to be comfortable and durable. A square, round or oval sapphire set in a yellow, white or pink gold ring. The silver sapphire gemstone ring is crafted to the same superior standards as the gold ring. The design ensures an extremely secure setting for the gem, the entire rim being covered with metal. Despite its sleek design concept, good metal weight and a solid band ensure that, the ring will maintain form and condition for a very long time - in all ring sizes. ... more.
Some fascinating information about sapphire gemstone colors. As you build you jewelry collection, you just can't leave out sapphire - one of the most sought after gemstone in history. Whether it is a gold or sterling silver sapphire ring that you pick, make sure that you do not compromise on gemstone or workmanship. And when evaluating your sapphire gemstone ring, open you mind to the scintillating color range in which natural sapphires occur. Blue, yellow, green, pink and white are the most popular sapphire colors. Since Kaisilver sources gems directly from the mines, we are fully geared to fulfill all your gem requirements. Don't forget that every single piece of jewelry used in our jewelry, is individually inspected and certified by authenticity - this by an independent gem testing lab. And as we talk about sapphire color selection, don't forget to deliver some amazing ideas by pairing metal color with gem color. Silver, white gold, pink gold and yellow gold would be the metals that you could explore, when choosing a gemstone ring with a specific sapphire color.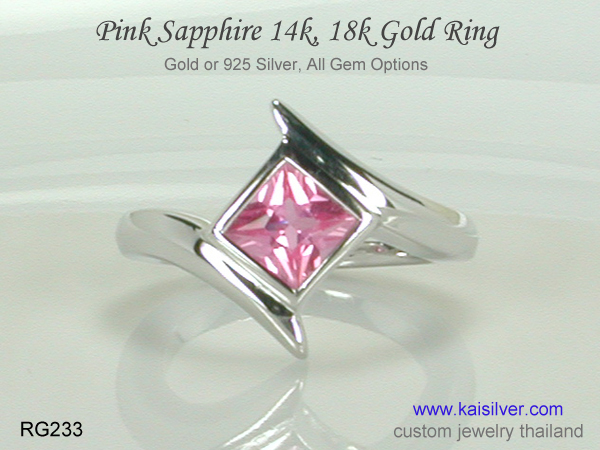 Natural, certified pink sapphire one of the sapphire colors that humans never knew existed for centuries. A graceful silver or gold sapphire gemstone ring, shown with pink sapphire but available with a blue, green, pink or yellow sapphire. It was only during our time that, scientists confirmed the existing of natural sapphires in a scintillating spectrum of colors. A finely handcrafted ring that is suited for casual and formal wear. Optimized metal weight with no metal scooping done inside the band ... more.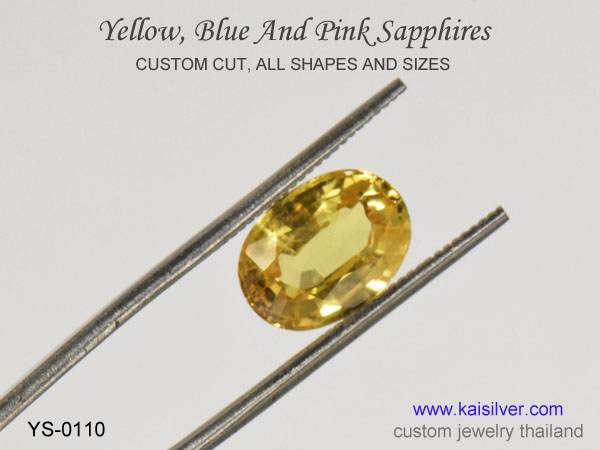 One look at this natural yellow sapphire gem and you would, agree that your collection really needs more sapphire colors - not just the blues. And if you are going for a sapphire ring with multiple gems, consider mixing different sapphire colors in the ring. As an example, the RG224PS ring would look great with pink + blue or blue + yellow sapphires. When you explore the entire color range of sapphires, remember that you also have the options for gold colors - yellow, white and pink and 925 silver.
Sapphire Gem Highlights:
Sapphires come in many colors.
Most sapphire gems are heated.
Sapphires are hard and durable.
Sapphire is the September birthstone.
Kaisilver offers all sapphire colors.
Kasilver Sapphire Ring Highlights:
No limitation on design or gemstones.
Crafted in gold or sterling silver.
All sapphire gem colors available.
White, yellow or pink gold options.
Possible to combine sapphire colors.
We use only natural sapphire gems.
Healthy metal weight ensures durability.
Crafted by highly skilled artisans.
Kaisilver: Widely accepted as the leading online custom made jewelry provider, Kaisilver crafts all jewelry in gold or 925 sterling silver jewelry. Highly skilled artisans and gem cutters work on all orders. There is no limitation on the selection of design or gemstones. You can discuss your requirements and doubts with the support team at sales@kaisilver.com they will be glad to help and guide you.
Buyer Reviews: Wow!!! Pendant looks even better than I imagined. Stone work is beautiful and the cross is more beautiful than the design I submitted initially to develop the piece. I appreciate the timely replies and expert advice turning my idea into a wonderful piece of jewelry. My wife is going to be very pleased with this family pendant, Thanks ... Bill Padgett.
... more.