Tanzanite Engagement Rings
UNDERSTANDING TANZANITE GEMSTONES
The sheer beauty of tanzanite is enough to explain its rapid rise to popularity, it is therefore no surprise that tanzanite engagement rings are extremely popular. Besides being colorful and exotic, there are some other characteristics of this amazing East African gemstone that make tanzanite perfect for an engagement or wedding. Bridal rings are symbolic of very important decisions, commitments and events in the lives of two individuals. Choosing an exclusive or truly rare gem for these rings enhances the meanings of the jewels. It is much like every man feels that, there is only one girl in the world made for him - the one that he is just about to get engaged to. Let us briefly list the highlights of tanzanite, the gem that was first brought to the limelight as recently as 1967.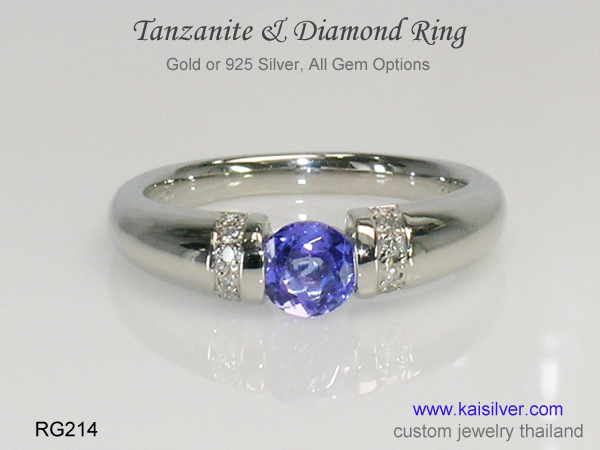 An elegant white gold tanzanite engagement ring, 6mm round center gem and a sleek rim of small diamonds on either side of the center gem. Good metal weight to ensure that the ring does not bend or distort easily, custom made in gold or 925 sterling silver. Full details for this gorgeous gold or 925 silver tanzanite diamond ring ... here.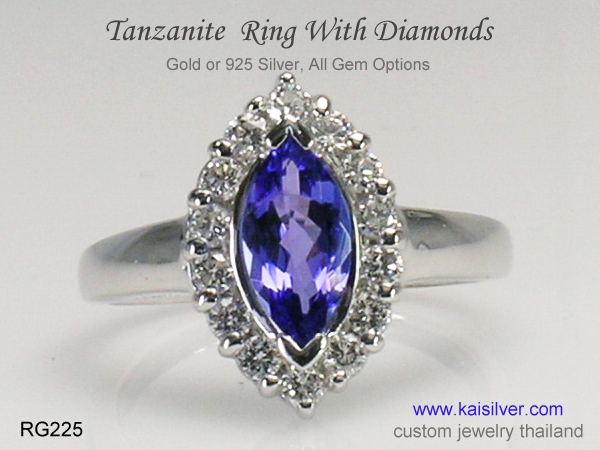 Add to the excitement of wearing an engagement ring with a gem that is rarer than a diamond - tanzanite. This ring adds a further element of exclusivity by adorning itself with a marquise shaped gem. Sturdy tanzanite ring in gold or silver, diamonds provide a glittering edge to the stone. Learn more about the ring ... here.
Tanzanite Gem Highlights:
The gem is rarer than diamonds, about a 1,000 times rarer.
Found in just one place on earth, a small stretch of land in Tanzania.
Available in the truly exotic color range of violet to violet-blue.
Given its beauty, color and rarity - Tanzanite is reasonably priced.
Rose to fame in a very short time span, first noticed in just 1967.
Belongs to the mineral zoisite, Tiffanys thought that the word sounded like 'suicide'.
It was Tiffanys who named it tanzanite.
The gemstone looks tremendous in all three metal colors yellow, white and pink.
Tanzanite is now one of the options for December birthstones, along with turquoise and blue zircon.
Rough tanzanite is generally a dark brownish-green color stone.
Tanzanite is heated to bring out the mesmerizing violet and blue hues in the stone.
Medium color tanzanite offers excellent glitter and is preferred over, very dark or very light colors.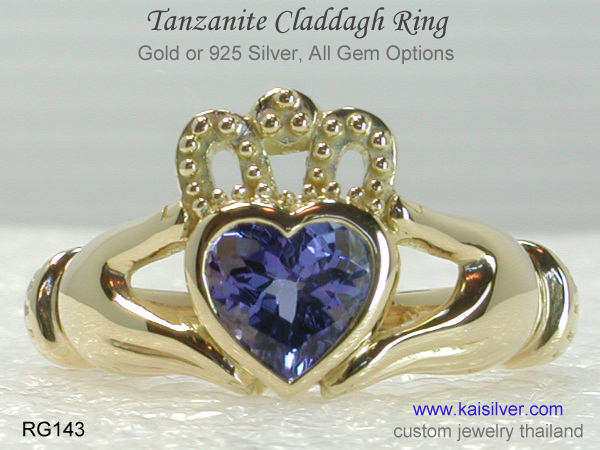 Tanzanite a unique gem found in just one small piece of land on the planet, this makes it around 1,000 times rarer than a diamond. The RG143 celebrates the most meaningful jewel in history, the 4 century old claddagh ring. The ring symbolizes love, togetherness and loyalty. Learn more about this historic ring ... here.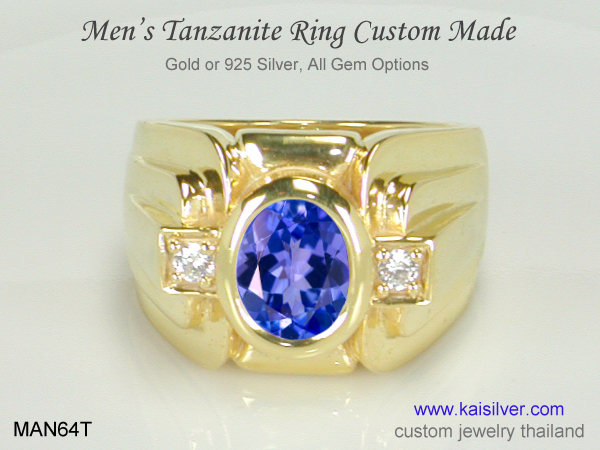 Tanzanite is not just for ladies, this amazing gem has a loyal following among style conscious men too. The MAN64T is an impressive men's tanzanite ring suitable for a wedding or engagement ring. The ring is custom made in gold or 925 silver with a 10x8mm or 9x7mm oval gem. Get more information on the men's ring ... here.
Let's come back to our discussion on tanzanite engagement rings. Now that you know the truly amazing features of this natural beauty, you can as the giver or receiver of the ring better appreciate a gold, silver or platinum engagement ring with tanzanite. If you still have a doubt in your mind whether, any other stone besides diamond could be the gem of focus for an engagement ring, leave those worries aside. Young couples have today learnt to wisely choose their rings and do not blindly follow traditions. The emptiness in the 'two months salary for her engagement ring' raga, has today made people realize that it was just a marketing gimmick sponsored by the wealthy diamond dealers. Engagement rings with colored gems like sapphire, ruby, aquamarine, tsavorite and demantoid garnet, emerald, morganite and tanzanite can be seen in well established bridal jewelry stores.
Another development that, explains the robust sales of colored gemstone engagement rings is the finding from a recent survey. It was found that if men made the sole decision to purchase an engagement ring for their lady, they were very likely to choose a diamond engagement ring. On the other hand giving the lady a chance to voice her opinion in the selection process would mean that, she would be more likely to give a close look and select a colored gemstone engagement ring. It is today a common practice for, the lady and man to shop together for her engagement ring. This is undoubtedly a strong reason for the increased visibility of exotic colored gems in engagement rings - a tanzanite engagement ring is surely one of the top favorites.
Quality Over Size: While good quality tanzanite is not as expensive as ruby or sapphire in the same grade range, do not push your budget too hard. Choose a tanzanite engagement ring encrusted with a medium sized tanzanite gem, emphasize on medium to dark color, no visible color zoning and eye clean. In general, give a close look to tanzanite engagement rings with very dark or very very light tanzanite gems, these gems are not very popular. Although dark saturated color tanzanite carries a premium price, the gem will most likely not allow light that strikes the stone to dance and reflect on the internal facets.
Diamonds Add Glitter: If you have read the factual highlights of tanzanite enumerated above you would agree that, a tanzanite engagement ring that focuses only on the amazing gem without any diamonds or other stones to distract, would be outstanding. However many of you might long for some sparkling glitter in your tanzanite ring. You can choose a tanzanite diamond ring that, assigns a minor role to the smaller diamonds in the ring. Just make sure that the ring stays elegant and yet stylish. And if you really want to dress up your engagement ring with exotic tanzanite and extravagant diamonds, be prepared to to be at the receiving end of some serious admiration and jealous glances.
Metal Color Preference: Just to let you know that, sterling silver is now a full fledged bridal jewelry metal option, it is no longer just gold and platinum that shine on the special day. While choosing the metal for an engagement ring with tanzanite gemstone can be based on your budget and liking, the metal color will never pose a challenge. Medium and dark color tanzanite gems will do full justice to white, yellow or rose (pink) metals. We do not recommend a gold, silver or platinum tanzanite engagement ring with a pale violet gem but - if this is the stone of choice for you, stay with a white metal color. For those of you considering a silver tanzanite gemstone ring, you should know that any type of plating done on the plating will wear off after a while.
Explore Unique Shapes: Tanzanite is much like ruby and sapphire in terms of available shapes and cuts. Most dealers prefer to have gems cut round, oval or a pear shape. The gemstone itself is rare, unique and exclusive but look for ways to add even more excitement to your engagement tanzanite gemstone ring. How about choosing a gem shape that is not normally seen in tanzanite, a heart or even a sleek marquise shaped gemstone. At Kaisilver, we do not restrict our gem selection to fixed inventories. We custom cut, every single gem that is used in the jewelry that we craft. The Kaisilver tanzanite ring collection showcases some amazing tanzanite rings with and without diamonds, you will find some rarely seen tanzanite gem shapes in the collection.
Choose Custom Made: An engagement ring is a special jewel, you want it to be pretty, last long, include all your preferences and symbolize one of the most important events of your life. Don't overspend on your tanzanite ring but at the same time, don't rush to pick the cheapest ring on the market or, select a jewel based on price alone. Ready made jewelry is generally designed and crafted to keep costs down, this is a big way to attract more buyers. We would recommend a custom engagement ring with tanzanite, the diamonds can be optional. The important thing is that, the design, gem size and shape, metal and dimensions should be yours. Ensure that the metal weight for your ring is optimized for the ring size and dimensions, low weight can result in deforming and denting and is also a major cause for, the loosening of gems and diamonds.
Kaisilver custom makes all types of jewelry with good craftsmanship, the design can be yours or ours, you choose the gem, metal and all other features of the jewel. While our websites generally quote prices for sterling silver and gold in 14k or 18k - price quotes can be provided for 10k gold and platinum if those are the metals that you require. Some of the most talented artisans and craftsmen work on our jewelry orders. With direct access to mining output from almost every mining center in the world and preferential access to over 200 million carats of cut and polished gems, we are the preferred online high end custom made jewelry provider to more than 12,000 quality conscious buyers across the globe. Our team of experts at sales@kaisilver.com will be glad, to provide answers and advice to any gem or jewelry related queries that you might have.
ALL JEWELRY CUSTOM MADE IN GOLD OR SILVER, WITH YOUR DESIGNS OR OURS