Gold Earrings Notes And Tips
Gold earrings can brighten your face and personality but for that to happen, you will need to understand all the possible options available for gold earrings. In this report we will talk about various issues and ideas related to gold earrings, you will also get some useful advice to help you pick the right pair of earrings. We all work with some budget in mind when making a purchase, the vast number of designs and gemstones offered in gold earrings means that price points can also differ widely. Earrings go through significantly less wear and tear as compared to rings, bracelets and bangles - this means that you can wear your earrings much longer. The idea should be to invest in a good pair of earrings and not rush into, choosing gold earrings that are cheap but flimsy.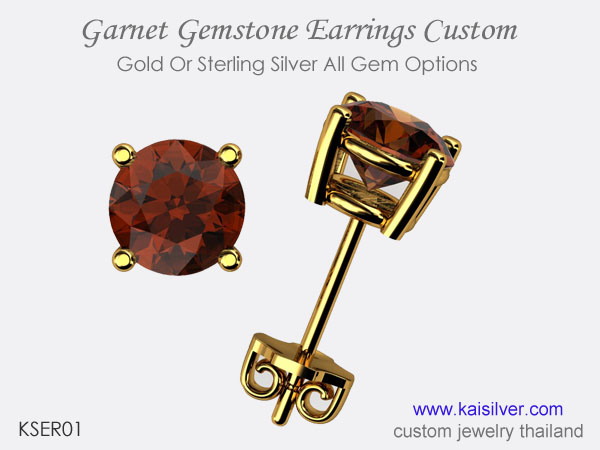 A classic design for this pair of custom gold earrings. Shown as a pair of red garnet gemstone earrings, the KSER custom gold earrings can be crafted with gemstones of your choice. Choose from 10k, 14k or 18k - white, yellow or pink gold for your gemstone earrings. All features can be customized as, each pair of Kaisilver earrings are meticulously handcrafted in Thailand by a team of high skilled artisans. We can also craft a pair of gold or silver earrings, with your own design.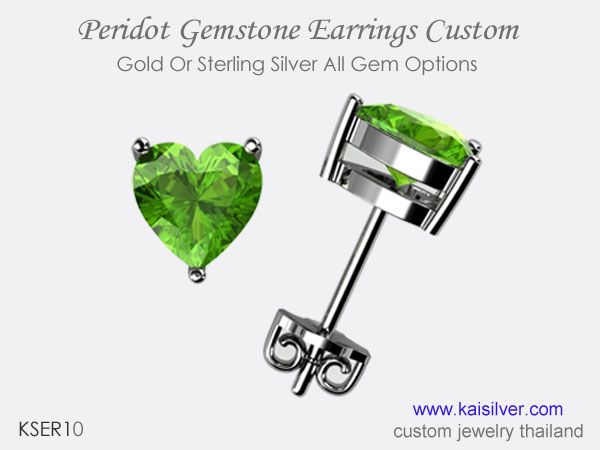 A pair of white gold heart earrings, custom made in gold or silver - all gemstone options. The heart motif symbolizes and caring and the love implied here, need not always be matrimonial. You could for example, gift a pair of gemstone heart earrings in gold or silver, with the gems of your choice, to your loving mom. The earrings shown here have heart shaped peridot gems set in them, the gemstones and their shape and size can be selected by you. Available as 18k, 10k or 14k earrings in white, yellow or pink gold.
Gold Earrings Essentials:
Gold earrings are available in 10k, 14k or 18k gold.
Gold color options include white gold, yellow gold and pink gold.
Simple well crafted gold stud earrings can have modest price tags.
Gemstone gold earrings come in a dazzling array of gem colors, shapes and sizes.
Gold earrings are often worn for special occasions like weddings and engagements.
Jewelry buyers today are increasingly embracing sterling silver, the demand is generally for quality jewelry in sterling silver. This however does not mean that, gold earrings are on their way out. It is quite common for gold earrings to be worn for special events or occasions, many ladies prefer to wear plain or gem stone earrings when attending a formal gathering. It is always a good idea to include 925 silver and gold earrings in your collection. The moderate price of silver earrings allows you to have a wider range of earrings, you can then keep the gold earrings for occasional wear.
While you could pick 18k, 14k or 10k earrings in all 3 gold colors, it is generally preferred to use 14k or 18k gold for quality jewelry. There is a price difference between these 'k' options for gold but, for gold earrings that are not too heavy, the price variation will not be very significant. When choosing gold gem stone earrings, review gold color options as certain gold colors can work to add beauty and grace to the gems set in them. Most of us would prefer not to wear very heavy gold earrings but, optimum gold weight is required to ensure that the earrings are strong and long lasting. Light weight earrings can sometimes imply a flimsy quality, stay away from these.
Gemstones bring a whole color spectrum to jewelry and now jewelry buyers are looking for colors in metal too. Besides the choice of 18k, 14k and 10k gold earrings, you can also consider gold colors to make your earrings more attractive. While each one of us has our preference for specific gold colors, you need not be die-hard fan of any one color. Mix white, yellow and rose gold earrings into your collection, each color establishes some gorgeous relationships with various colored gems. You can then choose a pair of gold earrings based on your facial make-up, dress outfit and occasion. The basic rule is not to be too concerned of what someone else is wearing or what, is in trend and out of it.
It is quite common for ladies to choose gold earrings when attending a special event or celebrating an important occasion. The availability of fine quality 925 silver earrings is moderating the keen desire for gold but, traditions still point towards gold. Before you rush and buy a pair of new gold earrings to be worn for that special occasion, review what you already have. Good quality gold earrings that are designed and crafted well, will retain their original shape and condition for a very long time. It is quite right to say that, earrings do not go through much wear and tear as compared to rings and bracelets. You might need to get your existing gold earrings cleaned and re-polished, your local jeweler should help you out with that. But if you have already earmarked a budget for a pair of new 14k or 18k gold earrings for the occasion, make a purchase by all means.
Talking about special events and occasions, let's not forget bridal jewelry. Every bride wants to look pretty on the big day, hair, jewelry, shoes and dress - everything is meant to perform like an orchestra and gracefully complement each other. If you happen to be picking gold earrings for an engagement or wedding, try to be practical. Choose earrings that go well with your attire for the big day, but make sure that the earrings could be worn even after the event. Keep the dress color and hue in mind and review yellow, white and rose gold earrings. If you plan to wear an elaborate or glittering necklace on that day, keep the earrings simple - the gem color would ideally harmonize with the color tone of the necklace. Basically you want your bridal gold earrings to be visible but, would not like them to scream out or be too flashy.
HOW TO ORDER
Never be in a hurry to purchase jewelry, this especially if you hope to end up with a good jewel that will give you many years of satisfaction. Kaisilver is one of the leading source for high end custom jewelry, all jewelry is crafted in gold or silver, by superbly skilled artisans and gem cutters in Thailand. Both gold and silver jewelry including earrings, are crafted to the same superior standards. Networked to leading gem mining operations across the globe, Kaisilver gains preferential access to over 200 million carats of gemstones. This explains why we place absolutely no restriction on your choice of gemstones for a pair of earrings or, any other jewel. You always end up getting the best gemstones at each price point. The design for earrings or other Kaisilver jewelry, can be yours or ours. All design modifications are possible, so make sure that you discuss your requirements with our experts at sales@kaisilver.com before, making a buy decision.
KAISILVER REVIEWS
I just received my ring and I had to send you a note of thanks. It is as beautiful as I expected it would be. Your patience with my questions was always gracious and the answers prompt and courteous. Please extend my thanks to the entire company and the artists who created this piece of art during extremely trying times for you. Feel free to use my endorsement of your company on your website, and I will be sure to tell everyone about your company. Thank you and God bless all of you ... Lynn St. Martin ... more.