Wholesale Engagement Rings - Thailand
Five to 10 years ago, we would have not discussed the issue of wholesale engagement rings. Those were the days when couples believed that, engagement rings had to be exclusive, expensive and extravagant. Jewelers encouraged that notion because it worked with their sales strategy. Conventions like two months earnings on an engagement ring and 'diamonds are a must', were strictly followed. Young couples started to spend beyond their means, financial debts caused mental strain and tensions. Basically it was mainly jewelers that were reaping the benefit of all that spending or rather, over spending.
As the prices of gold, precious gems and diamonds started their upward march, it so happened that world economies started to stagger and falter too - this had the (good) effect of making people more cost conscious. Couples decided to spend wisely on their engagement rings, diamonds were made dispensable and suddenly silver and even lower priced metal options like titanium and stainless steel became acceptable. Young brides showed their individuality in terms of design concepts and gemstone preference. With this easing of engagement ring conventions, the range of designs that were 'suitable' for engagement rings also widened. Jewelry sellers including wholesalers realized that, they could start stocking up an array of rings and promote them as engagement jewels. And it is with all these changes and developments that, you will today find a demand for wholesale engagement rings.
If you are dealing in such wholesale jewels we have some advice for you. Merchandising for this market segment is critical, you need to have sufficient variety to ensure a sale especially because, the price points could be as low as 50 - 60 dollars. You will need to sell volume to make money and this will require to develop a collection that suits, a wide range of tastes and likes. Contemporary designs will always have an energetic following but, don't ignore the classic and timeless look. Keep a nice balance in your inventory and keep analyzing what sells and what doesn't. Try to get a jewelry factory in production centers like Thailand to manufacture your rings based on, your choice of gemstones, metal and designs. Many wholesale jewelers prefer to pick merchandise from ready made lots, as this will generally not entail committing high M.O.Q volumes per design or SKU. Just remember that being forced to pick merchandise from a fixed set of styles and items, will mean that you are doing a lot of guess work. Quality and gem options might also pose a limitation when relying on 'off the shelf' purchases.
A better way to stock a wholesale engagement ring inventory, is to work with a jewelry manufacturer who can provide your designs with your quality standards. There might be initial hurdles to clear in terms of M.O.Q demands but, keep looking and you will be find a capable and competent Thai jewelry factory that is not very large - this is very likely to result in moderate minimum order quantity requirements. You do not want to stock too much of any one item as it means locked up investment. The benefits of moderate M.O.Q volumes are many, this strategy will allow you to spread your budget across more styles, gems and designs.
As a wholesale engagement ring dealer, you will obviously be selling to the next level in your supply chain - the reseller. Make sure that you explain the options and properties of various gems and also the importance of quality to the reseller. This will allow him or her to configure a sales campaign that is more receptive to sales. Simple concepts like birthstone engagement rings, antique style engagement rings and even the correct meaning of synthetic, natural and mere imitation gems should be explained. Look to build a long term relationship and resist the temptation, to push your sale and then forget about the transaction.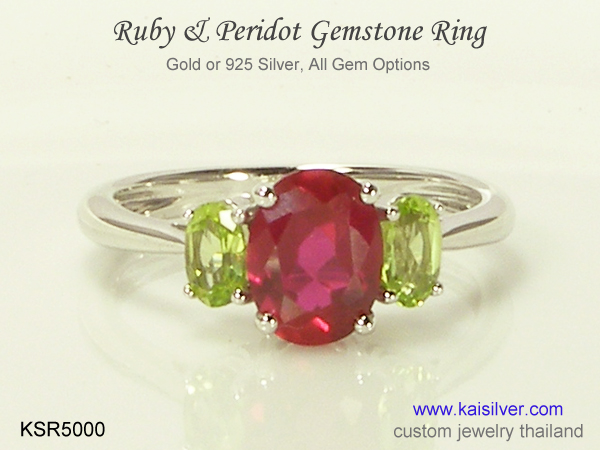 There is a growing demand for silver engagement rings now so make sure that, you merchandise for this product segment in your wholesale jewelry business. Kaisilver is an efficient jewelry manufacturing factory in Thailand. The company has the expertise and skills to manufacture a wide range of jewels and styles. This is combined with a compact setup that does not involve very high overhead costs. It is the ideal setup for your moderate volume buying. You are not limited to fixed designs and gems and you are not burdened, with high M.O.Q stipulations. You can provide your own design concepts and gem preferences. Contact the support experts at sales@kaisilver.com .