Custom Made Rings From Thailand
A interestingly large number of jewelry shops in Thailand will tell you that, they can handle a custom made ring to cater to your requirements. The fact is that you need to evaluate the jeweler before, you get down to valuing the jewelry. In this discussion on custom made rings from Thailand, we will use Kaisilver the leading custom made jewelry provider as an example. By working with a team consisting of super skilled Thai artisans and gem cutters, Kaisilver has been crafting high end custom jewelry online - for over 2 decades. Custom rings from Kaisilver Thailand can be crafted with no limitation on design, gemstones or metal (gold or silver). If you have never heard of fine custom made rings in silver, you are not alone. Kaisilver happens to be one of the very few, custom jewelry providers to maintain the same superior standards for gold and silver jewelry. The support team will be glad to help with any questions or requirements that you might have, email the team at sales@kaisilver.com and they will get back with suggestions and advice.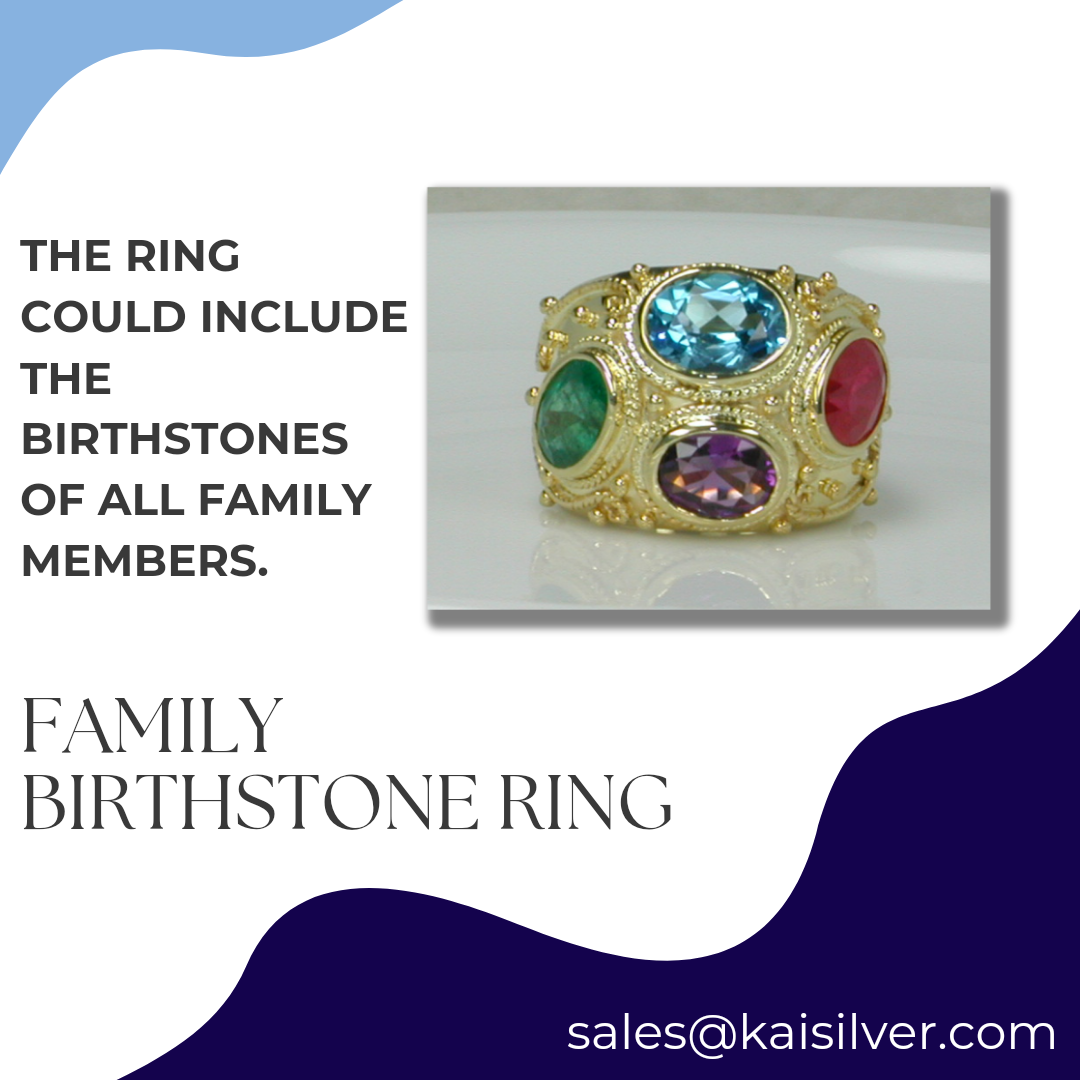 When it comes to custom rings with gemstones, Kaisilver Thailand is one of the most preferred choice. With major access to gemstones from across the globe, Kaisilver places absolutely no restriction on choice of gemstones for all custom made rings and other jewelry ... more.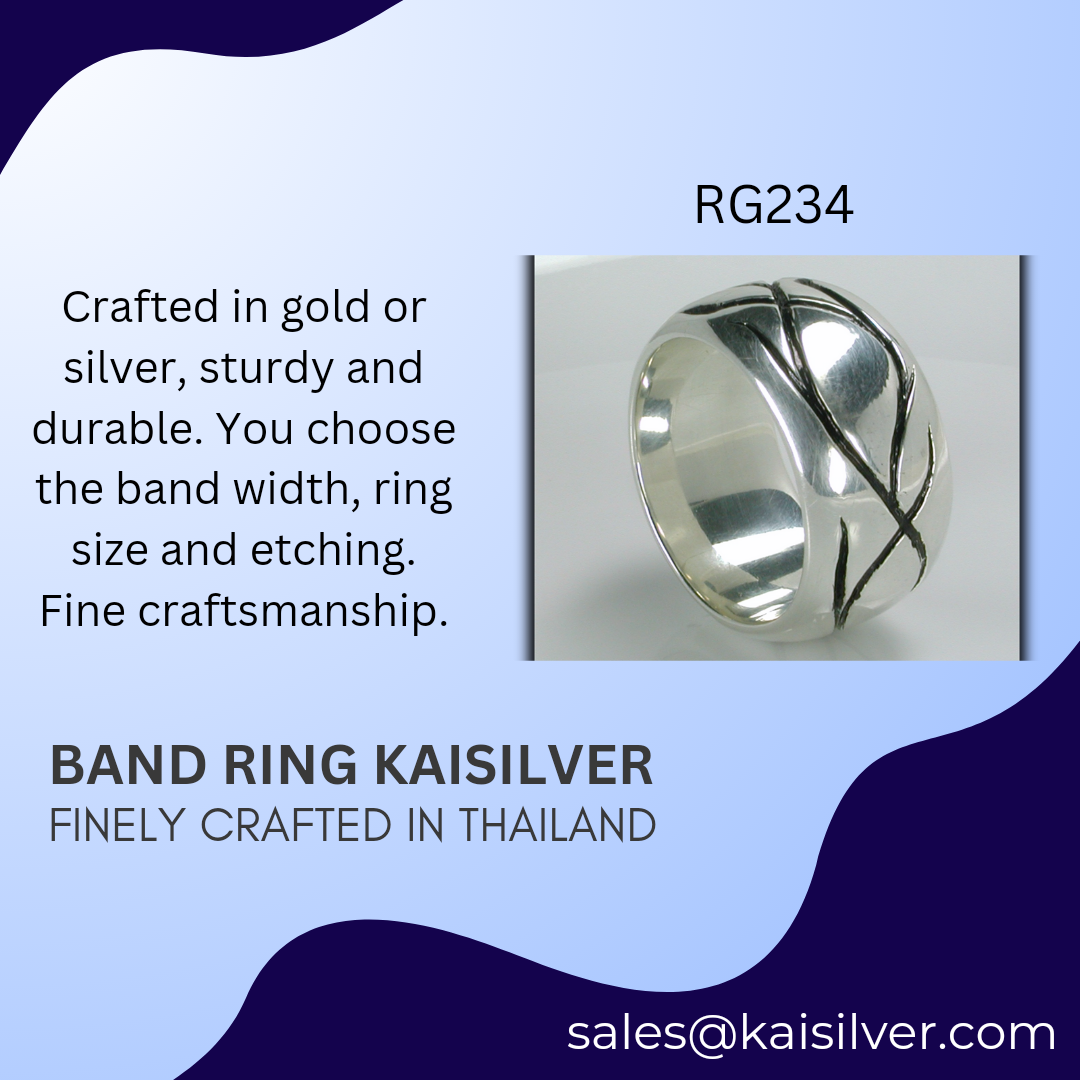 One of the big reasons for the popularity of custom made rings from Kaisilver in Thailand is that, you get the same superior standards for custom rings ordered in gold or silver. Our plain band rings can have the design, bandwidth and gems or diamonds of your choice ... more.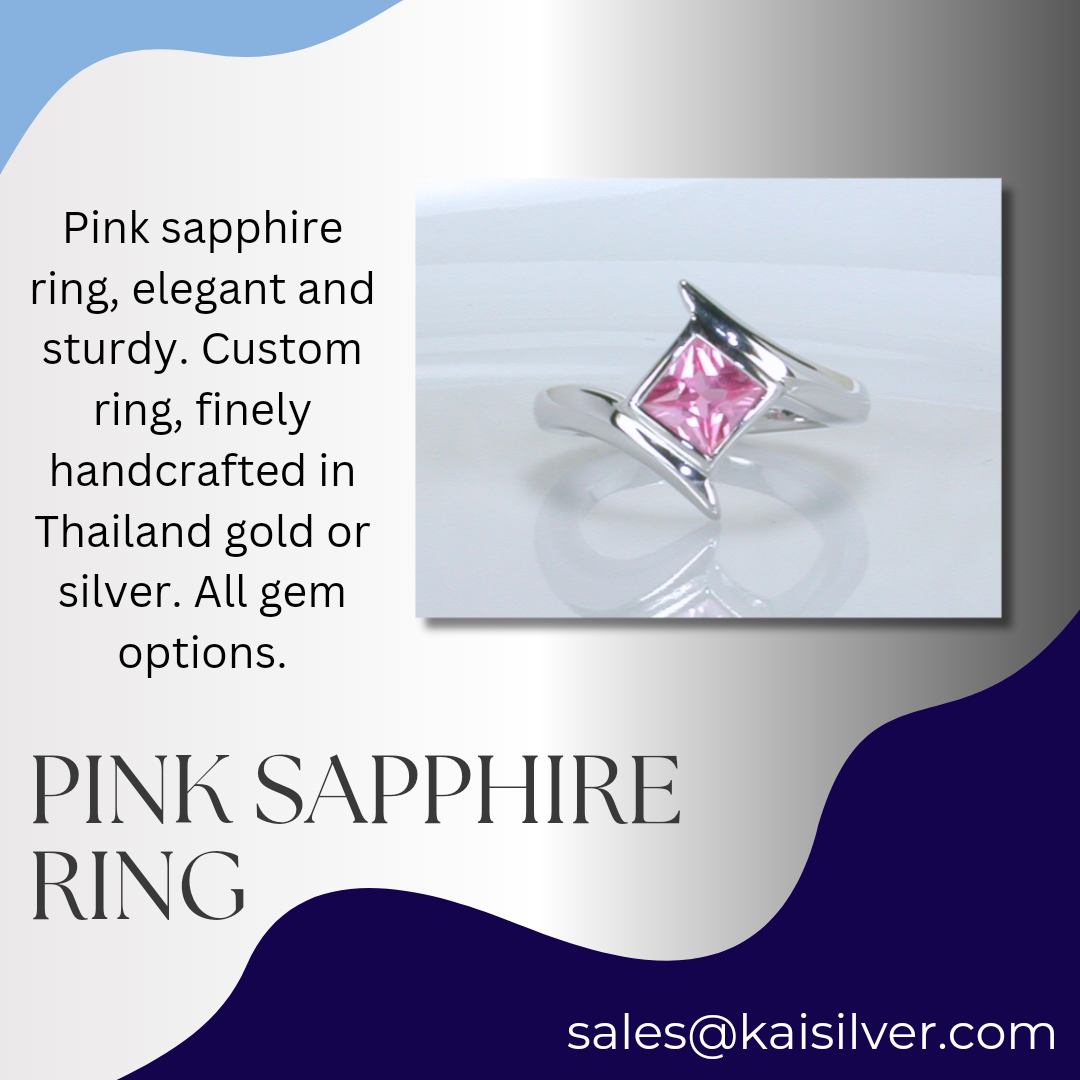 Sapphires are found in a spectrum of colors, custom made sapphire rings from Kaisilver can have the gemstone of your choice - you could request for any sapphire color of your choice. We will provide certified gems for custom made rings, read about sapphire rings ... more.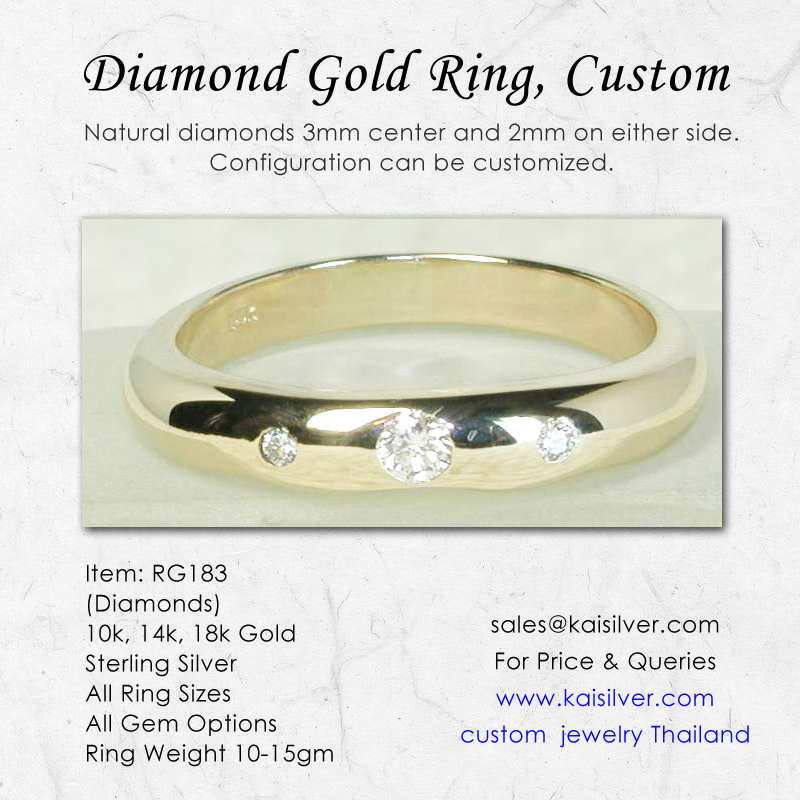 Complete customization for Kaisilver custom rings and other custom made jewelry ensures that, you get all the preferences of your choice. For example, you could pick a diamond ring and combine gems and diamonds in the ring, you could also request for lab diamond ... more.
HIGHLIGHTS OF CUSTOM RINGS
A. A true custom made ring can include all your preferences, the only limitation would be your imagination and budget. This is precisely the high level of control that, Kaisilver gives you when you order a custom ring or any other jewel from us. We can work with your design or ours, no limitation on gemstone selection.
B. Unlikely that any other custom jewelry provider would provide you this feature - Kaisilver custom rings are crafted to the same premium standards, irrespective of the metal being gold or silver. You could pick any ring from or website or send us your own design and request for it, to be custom made in gold (10k, 14k, 18k and yellow, white or pink gold) or sterling silver.
C. Thailand is the hub for gems and jewelry, no doubt about that. However not all jewelry providers in Thailand, have an advantage that they can pass on to their clients. In general jewelers in Thailand and the world, buy gems and diamonds on a supply chain that includes a number of agents and brokers. This not only increases the final price to the buyer but also, causes jewelers to restrict gem selections to buyers. Kaisilver does not need to work with a fixed set of inventory, we have preferential access to a huge gem selection, over 200 million carats. This because we remain networked to gem mining and cutting operations across the globe. This is precisely why we do not restrict your gem choice for gemstone rings or any other jewelry with gemstones.
D. Not all custom jewelry that is made in Thailand, has a high quality level. We often hear that, a certain Thai jeweler is ready to make a specific jewel, with a gold weight that is half of what we offer. No doubt that a lighter custom made men's ring would be priced lower than, a ring with a higher gold weight but, that is half of the truth. In reality an optimal metal weight goes a long way in increasing the lifespan of a ring - or any jewel for that matter. A fine custom made ring for men, with good weight would also be more comfortable to wear.
E. When we talk about expert artisans in Thailand meticulously crafting each Kaisilver jewel, it is not just about beauty and external appearance. The right mounting for the gemstone, avoiding sharp and pointed edges and corners and a few other aspects of a custom made ring, call for expert artisanship. No secret that mass produced rings cannot, deliver that high level of individual attention for each piece. This explains why fine jewelry lovers, buy their jewelry custom made from Kaisilver Thailand. So choosing the right custom jewelry provider is as important as, selecting the ring of your choice.
CUSTOM GEMS AND DIAMOND RINGS
Custom rings are specifically made for a client, ideally no mass production technics should be used to craft high end custom made jewelry. You do pay a premium for quality but, it is important that you get the true advantage of a custom made ring. Gemstones are an important part of a custom made ring, your choice for choosing gems should be unrestricted. Equally important is that, you get the best gem for the price that you pay. This would not be case with most custom jewelry providers in Thailand, where gems are borrowed across a chain of brokers and prices keep getting inflated at each stage. We highlight the advantages of ordering your custom gemstone ring from Kaisilver in this section.
A. With preferential access to over 200 million carats of gemstones, directly from global miners and cutting operations - Kaisilver places absolutely no limitation on your gem selection. This massive gem resources also means that, you always get the best gemstones at each price level. No middlemen and multiple profit margins.
B. A good idea to get a custom gemstone ring in gold or silver from Thailand, but choosing Kaisilver Thailand makes it even better. You could choose any ring from any of the Kaisilver websites and request for that ring, to be crafted with your choice of gemstone. Additionally all aspects of our rings can be modified to comply with, your preference for a gemstone custom made ring. We will also be glad to craft a unique ring for you with your own design.
C. When referring to gems and diamonds in our Kaisilver custom made rings (or other gemstone jewelry), it is always implied that we are talking about natural gemstones. Certificates of authenticity from an independent gem testing laboratory, are available on request. If you plan to have a custom made ring done with, lab created gemstones or diamonds - let us know and we will discuss on various aspects including pricing together.
D. When choosing the design for a custom made ring with gemstones, you might want to understanding the basic price logic of gems. The price of natural gems can range from $10 per carat to $5,000 or even more per carat. This gets to be important in the case of expensive gems like ruby, sapphire, diamonds, emerald and tanzanite etc. As an example a big men's amethyst ring with a 6 carat amethyst gem, would be exorbitantly expensive if, you wished to have the ring custom made with a 6 carat ruby or sapphire gem! Email our experts at sales@kaisilver.com for more related information.
E. You could choose a gemstone ring based on a specific birthstone, we have included the popular Kaisilver Birthstone Chart down below in this report. Each month has one or more birthstone linked to it, wearing a custom birthstone ring is believed to bring good luck and keep away the bad days.
F. Though wedding diamond rings are today not considered to be absolutely essential, the popularity of custom made diamond rings or custom gemstone rings with added diamonds - remains significantly high. All Kaisilver made to order diamond rings and rings with diamonds as accent stones, refer to natural (not manmade) diamonds. Having said that, no denying the fact that lab diamonds (also known as synthetic diamonds or manmade diamonds), have gained much interest in recent years. If you wish to know more about lab diamonds or happen to be interested in, a custom ring crafted by us at Thailand with lab diamonds - contact our support experts on the email address provided at the bottom of this report.
E. A useful suggestion from the Kaisilver team of stylists and design consultants. If your focus is on a specific gemstone for a custom made ring and the gem, happens to be in the expensiive price range - you have two big advantages of ordering a Kaisilver custom ring. You could choose a slim ring design or a design that has modestly sized gems, the second option would be useful if, you have set your mind on a specific design. Contact the Kaisilver team and discuss about, modifying the design for an existing ring, this to make it suitable for a gem with a smaller gemstone. Keep in mind that Kaisilver is always glad to work with your own design concepts and ideas.
WHO IS KAISILVER
Leading the online high end custom made jewelry sector for over 2 decades, Kaisilver today serves over 12,000 gem and jewelry lovers across 15 nations. A team of super skilled artisans and gem cutters, work on all Kaisilver custom jewelry orders. Our jewelry ships across the globe through Fedex. We place no restriction on gem selection, design or metal (gold or silver). The designs for custom made rings or other custom made jewelry from Kaisilver, can be yours or ours. The same premium standards are maintained for gold and silver jewelry. Being closely networked to gem mining and cutting operations worldwide, we have preferential access to well over 200 million carats of gemstones. This ensures that you always get the best gemstone for the price that you pay. When ordering a custom ring or any other gemstone jewelry, your choice of gems need not be restricted to what is shown on our websites. Contact our team at sales@kaisilver.com with any questions that you might have, we will glad to help even if, you buy nothing from us.
HOW TO ORDER
Let us know which item interests you, send us images or descriptions of your own design ideas. Our support team will work together with you, to final specifications and send you a price quote. Ask as many questions as you wish, do not be in a hurry to rush your order. Once you have all details for your requirements - make a decision and request for payment and shipping options. Remember that each jewel is meticulously handcrafted by expert artisans in Thailand, we do not use readymade blocks and mass production technics. Your custom ring or any other jewel, will be ready to ship within 4 to 5 weeks of order placement and receipt of payment. Email Kaisilver Thailand at sales@kaisilver.com wiith any details that you might have.
KAISILVER REVIEWS
The cat ring is beautiful and elegant, and so so cute. I can't believe you got it to me before my girlfriends' birthday. I felt truly touched, at all the care you put into the product, and for the beautiful little bag it came with, and for your lovely card. Thank you for your understanding, care and expediency. God bless you for it! I have never been treated this way as a customer! THANK YOU! ... Mr.Eugene Iosilevich. ... more.