Silver jewelry factory thai
There are many Thai silver jewelry factories, while this is good news it also means that selecting a particular jewelry factory in Thailand to manufacture your wholesale or volume silver jewelry requirements is not going to be very easy. As you would be aware, factories differ widely in terms of skills and expertise. Even when a jewelry factory is known for it's good craftsmanship, this might be true only for some specific product lines. With both wholesalers and retailers working on an increasingly skinnier profit margin, labor charges become a sensitive issue. You really cannot mark up silver jewelry prices heavily on the metal and gemstone cost component. Most wholesale jewelry buyers and sellers are aware of current pricing trends. Labor overheads are one expense element that can be pushed down though, this might beyond a certain degree result in a quality compromise. When choosing a particular Thai jewelry factory to produce your sterling silver jewelry, it is important to learn the quality that they can deliver - the labor charges should be discussed and bargained only when the quality promised is found to be acceptable for your needs. We say this because, a high labor charge might not translate into better quality.
If you have come to the stage of selecting a silver jewelry factory in Thailand for your production requirements, you surely have made up your mind about the gemstones that you require and who exactly would supply them. It might be a good idea to leave the gem selection to the jewelry factory especially if, they specialize in gemstone procurement or manufacturing too. Once again your decision for the source of the gems would depend on the equation between quality and price. If you decide to let the Thai 925 silver jewelry factory in Thailand to procure gems for the jewelry, make sure that you both have agreed on the quality and price acceptable. Supplying stones to the jewelry factory has it's share of advantages too. When you procure the gems to be set in your silver jewelry and supply them to the factory, you know what stones the jewelry would end up with. This might be a price advantage too if, you can procure the gems at a better price than the jewelry factory could. If you choose this option clearly agree on the delivery date, for the gems to the factory. Delayed supply of the gems to the Thai silver jewelry factory, could lead to problems and result in a blaming game. Most countries expect jewelry sellers to clearly disclose the use of any gem enhancing treatment if, applied to the gems. Factor this into your gem procurement strategy, this can help you avoid legal wrangles in the future.
Q.C or quality control processes are an important part of any jewelry production, sale or purchase. A proper arrangement is best worked out with the silver jewelry factory in Thailand before, the order process is finalized. If you will not be inspecting the silver jewelry being manufactured, things will need to be more clearly defined. It would mean that, you are relying on the jewelry factory in Thailand, to produce the jewelry and then put quality checks in place to ensure that your requirements are met. To begin with, this requires a more careful selection of the Thai silver jewelry factory - keep this in mind. The next thing is to decide and agree on the process to be followed if, the silver jewelry that reaches you has quality related problems. And if the the jewelry received by you passes your Q.C inspection but, comes back as a return from the final customer - who would you expect should take back the merchandise. Many jewelry sellers have a policy that, helps them sell more. They promise a 'no questions asked' return policy if the returns are made within, a specific number of days from the purchase. If your silver jewelry buyer, works on such a policy, will he expect you in turn to take back returns received by him. And if this is so, will you expect the jewelry factory in Thailand to accept returns from you. In our opinion, no jewelry factory in Thailand would accept a no questions asked returns policy unless, the factory is owned by the seller.
Choose a Thai jewelry factory that has staff that can communicate in your language. Our suggestion is to keep it simple and find a factory, that has communication capabilities in Thai and English. Remember that you might have to communicate over the phone or by email, make sure that someone in the silver jewelry factory will be around to understand your communications. The best policy to follow is to keep all communication on record and in writing. Even discussions that were done on phone should be summarized and placed on a document.
Thai jewelry factories are well known for their skills and dedication. Just make sure that issues and agreements are clearly understood by both sides. And to repeat, keep everything on record and in writing (emails or similar documents). It might be a good idea to pay a visit to the factory but, this is not always feasible especially if you are based overseas and the jewelry orders are not large enough to justify an expensive journey.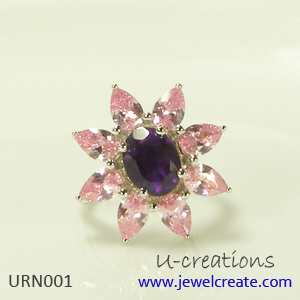 One of the biggest hurdles that, silver jewelry buyers face in Thailand is the large M.O.Q volume requirements stipulated by most Thai silver jewelry factories. And when it comes to small jewelry factories, who seem to be ready to work with low order volumes - the issue of skills and expertise becomes important. We have come across one jewelry factory in Bangkok, that has configured itself up in an interesting and unique way. U-creations distills in some of the best skills, talents and expertise in jewelry production. The unique feature of this jewelry factory is that, it is physically compact and professionally managed. By maintaining a control over it's overheads, the factory can produce silver jewelry with moderate minimum order requirements ... more.